Away, Monos, Roam: What's the difference between these suitcase brands?
What do we need to look for when deciding between all the brands trying to sell suitcases to us?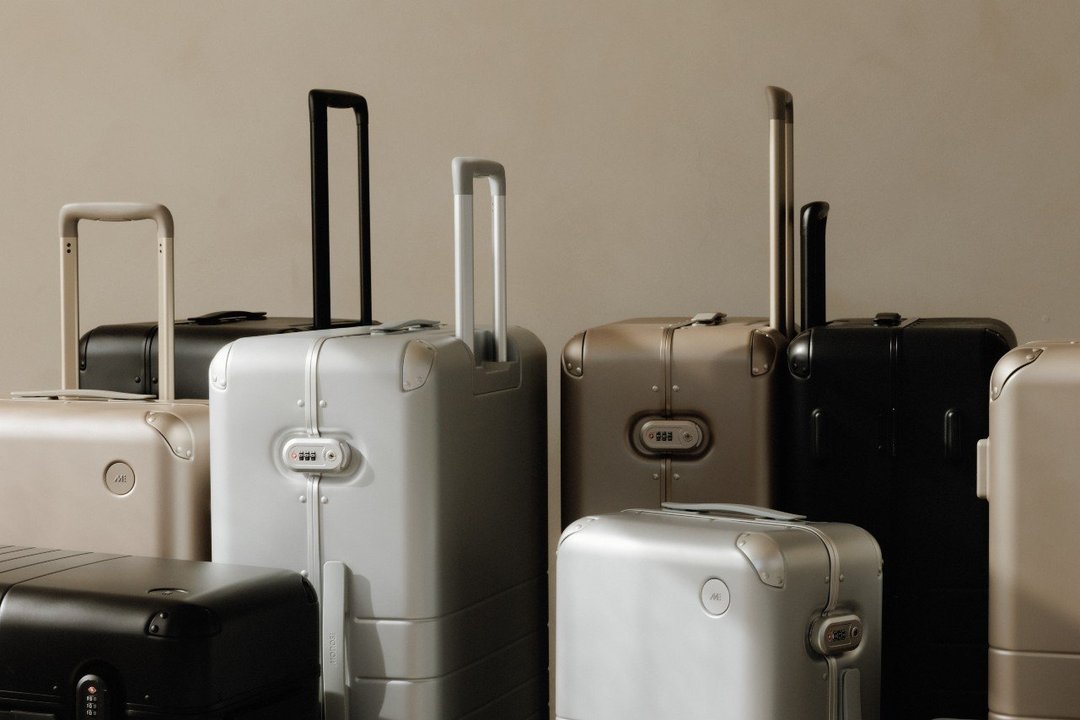 It's been seven years since two former employees of the disruptive eyewear brand Warby Parker decided to strike out on their own and apply the direct-to-consumer model to yet another category — suitcases.
The twists and turns of Away's story have been well documented ever since, as it battled to freshen up the luggage space. Its suitcases are now status symbols, designed specifically for the era of travel documented via Instagram.
Naturally, a number of competitors have cropped up along the way. And despite the pandemic causing a massive bump in the road for these brands, suitcase sales are once again going strong: according to the NPD Group, the travel accessories market hit $7.6 billion in sales last year, up 16% year-on-year.
In the first half of 2022, luggage giant Samsonite said that sales were up 59% year-on-year, while sales at Away were reportedly up 61% and 73% in Q1 2022 and Q2 2022, respectively. Some lesser-known brands, however, reported staggering levels of growth: Beis said sales of wheeled suitcases were up 539% year-on-year in May 2022, while Monos says that sales rose 300% year-on-year in 2020 and 2021. The brand's cofounder Victor Tam says that in the past 12 months, Monos has sold more than 500,000 suitcases. "Our company started six months before [the pandemic hit] and has outpaced growth compared to more established brands," says Tam. "We believe to be building the next iconic brand in the travel luggage and lifestyle space."
But while the luggage market may be in a period of recovery, consumers have also shifted their mindsets around travel following the pandemic. Speaking to Thingtesting in November, NPD analyst Beth Goldstein said that consumers are now on the lookout for luggage that is lightweight, multifunctional and easy to cart around between destinations.
So what are these young luggage brands offering, and how can shoppers choose between them?
How are new suitcase brands giving themselves a competitive edge?
Hard-shell suitcases in on-trend colors are everywhere these days, meaning that brands now have to work harder when it comes to developing products that have some kind of edge over their competitors.
In June, Away launched a collection of soft duffle bags and backpacks, aimed at targeting adventure and outdoor travelers — and it's likely these bags will appeal to those looking for multifunctional luggage items that will work on a plane but also for weekends away, too. Baboon To The Moon also offers fabric luggage items.
Brands are focusing on the small details, too. Monos, for example, says that it has created custom, modular parts for its suitcases that can be replaced. According to Tam, the telescopic handles used on Monos's suitcases took three months to develop at a cost of $60,000 to create the desired functionality. Australian suitcase brand July, meanwhile, claims that its Carry On Light suitcase is "the lightest double-wheeled suitcase in the world". The 3.9lbs weight has been achieved through a slimmed-down shell, minimal wheels and a simple internal design.
While most suitcase brands will let you add monograms or purchase customized tags, five-year-old luggage brand Roam allows shoppers to pick and choose the full designs of their case. "Roam's USP is the combination of personalization, high-quality materials and craftsmanship," CMO Jon Levine says. Unlike its competitors, Roam also makes its bags in the US, which Levine says gives the brand advantages such as "speed to market, less disruptions in the supply chain and higher quality control".
Are smart suitcases really a thing any more?
Several suitcase brands founded in the mid-2010s made their suitcases stand out by giving them 'smart' qualities. These included in-built batteries that could charge phones on the go, or apps that paired with the suitcases so their owners could keep track of what airline luggage handlers were doing with them. But there was a problem: in 2017, the Federal Aviation Administration said that smart suitcases caused a fire hazard. They could only come on board if their batteries could be removed. Away redesigned its bags so the batteries could be removed, and it now offers the charging battery as a paid-for add on. Not all brands were able to survive the fallout — Bluesmart and Raden, two other smart luggage brands, both closed down in 2018.
"This was a popular move to attract customers, but as we dug deeper it really made no sense for customers in the long term," says Tam, citing issues like customers needing to replace batteries and airline policies being subject to change as reasons why Monos didn't include batteries in its designs. According to NPD, just 8% of shoppers surveyed say they want a suitcase that can charge their phone.
Still, while tech-enabled luggage might not be a priority for all consumers, there is still demand for such products. According to Technavio, the global market for smart luggage is forecast to grow by almost $4.5 billion between 2021 and 2026, driven by new product launches and shoppers looking for more premium luggage items.
What else do people base their suitcase purchasing decisions on?
A survey by Consumer Reports found that the features shoppers care about most when it comes to suitcases are 'wheelability' and durability, which were cited by 57% and 54% of respondents, respectively. The survey, published in December, also found that people who's suitcases lasted longer were happier with their purchase.
Athan Didaskalou, July's founder, says that shoppers will also be asking themselves questions such as how they like to pack, the type of travel they anticipate doing with the item, and where in the world their luggage might go — and any size, weight or other restrictions it might encounter.
When asked why customers might end up deciding against purchasing their products, July, Monos and Roam all told Thingtesting that price is the primary factor. "We work to provide a high quality, durable and innovative product at a competitive price point," says Didaskalou. "However we do know that there are luggage options that are cheaper if price is a barrier to entry."
"We truly believe in the value of our products," says Tam, "however some shoppers may find the price to still be quite high for a product of utility and [that] will eventually get banged up." He says that Monos's lifetime warranty program is one way the brand can convince customers to spend a little bit more.
And while elevated inflation is certainly making shoppers think more carefully about where their money goes, it doesn't look like people are cutting their travel plans just yet. A Forbes Advisor survey found that 49% of Americans plan to travel more in 2022 than they did in 2023, while just 8% said they planned to cut back. For suitcase brands, this is good news.