Can a supplement really give you thicker, stronger, longer hair?
Brands like Nutrafol promise that their supplements will help you grow even more hair.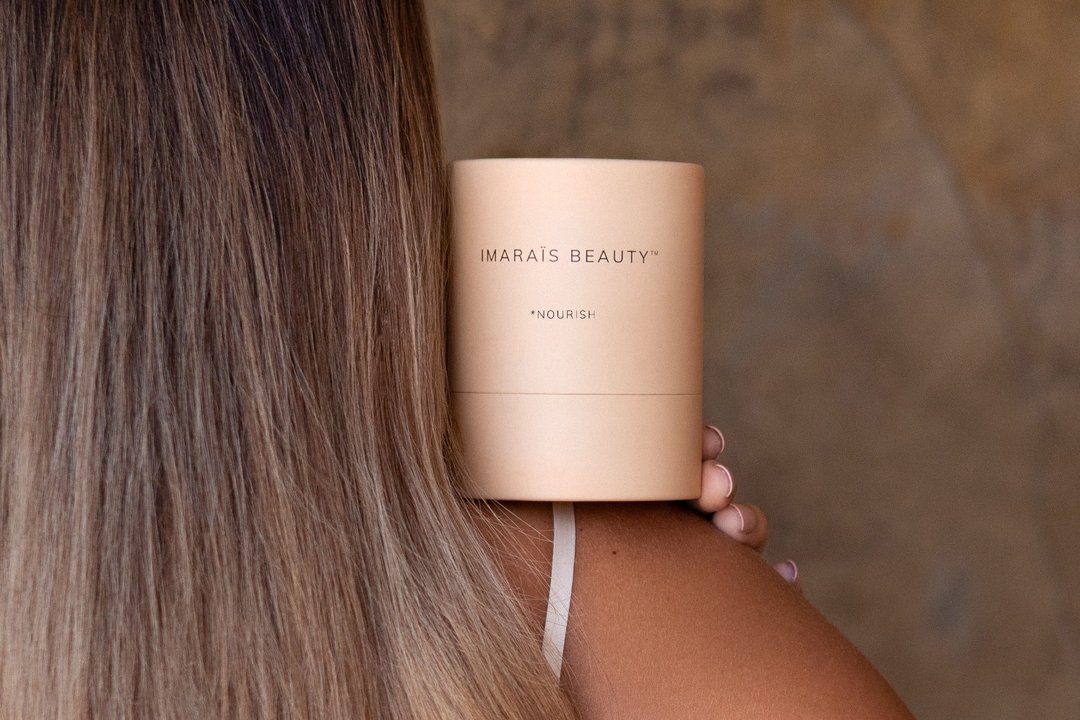 There's money to be made selling hair growth supplements. The market was estimated to be worth $960 million in 2021, and is thought to be growing at a rate of more than 11% per year as people seek ways to make sure their hair doesn't lose that youthful, bouncy look.
Nutrafol, a hair care brand that focuses on supplements, says its revenue doubled last year, and that it's hoping to do the same again in 2022. Unilever recently acquired a majority stake in the business, and while the terms of the deal have not been revealed, it's thought the seven-year-old brand was hoping for a $1 billion pricetag.
Another brand selling hair loss remedies, Hims (it also operates a sister brand Hers) went public at a valuation of $1.6 billion earlier this year. In its latest set of financial results, it said it reckons it will generate sales of $410 million this year.
Other brands are getting in on the ingestible hair care action, too. In May, hair care brand Ouai launched its own supplements containing biotin and pea sprout extract, while in January supplements brand The Nue Co launched a hair health collection which includes a supplement designed for "women who are shedding more hair than they usually do."
Hair today, gone tomorrow
Products that target hair loss, particularly for men, are nothing new. But the pandemic seems to have got more people noticing that their hair is thinning. At U.K. online beauty retailer Cult Beauty, sales of hair loss treatments rose 166% in 2021.
The link between the pandemic and hair shedding is not totally clear — although it has been described as a "mass hair-loss event," maybe due to the illness itself, or perhaps because of the sustained stress that living and working amid a pandemic has caused.
"Definitely in the last five years, I've seen the levels of stress increase in the clinic, with a lot of people living in fight or flight, emergency mode," says Dr. Simoné Laubscher, the founder of supplements brand Rejuv Wellness and the formulator behind WelleCo's Hair Elixir. "And I've seen a huge correlation between stress and hair loss. We definitely do have a whole new level of stress coming out of COVID, in addition to the virus itself putting stress on the immune and nervous systems."
As well as stress, another factor that contributes to hair thinning is poor diet. Hannah Gaboardi, a trichologist specializing in hair loss and who also works with supplements brand Viviscal, says this tends to be the most common problem among people experiencing hair thinning and excess breakage. "If someone's not eating enough nutrients, skipping meals or not having enough protein, that can cause thinning [as the hair is not getting the] building blocks it needs to be healthy," she says.
Shedding is a pretty normal part of our hair's lifecycle, and the good news is that the hair tends to grow back afterwards. The "exogen" phase of hair growth as it is called, where strands start to fall from the scalp, takes place every two to five years and lasts for anywhere between two to five months. During this period, it's normal to notice that you are losing more hair than usual. Once complete, new hairs will begin to grow.
How are brands tackling hair loss?
Supplement brands tackling hair growth promise that they will be able to reduce the impact of that shedding process, and help the hair get back on the path to growth sooner.
Laubscher estimates that when it comes to the amount of hair shedding, the impact of both poor nutrition and stress are equally weighted. Other considerations such as age, genetics and environment will factor in too.
Brands launching today are formulating hair supplements with this two-pronged approach in mind, thinking beyond the biotin and folate we are used to seeing in hair, skin and nail supplements. Nutrafol's pills contain ashwagandha to "help build resistance to stress," kelp to support thyroid health, and horsetail, which contains biotin, zinc and selenium.
The Nue Co, meanwhile, uses a patented ingredient derived from the film from the inside of an eggshell, which contains collagen, hyaluronic acid and keratin. The brand says that clinical studies have shown that the supplement can reduce shedding by 87% over 20 weeks and improve hair growth by 40%. (It should be noted that 20 weeks is roughly five months, the period of time you would normally expect the exogen phase to be completed by.)
Imarais Beauty, a supplement brand launched by influencer Sommer Ray, released a hair supplement called Grow earlier this year, which contains three types of mushrooms that have been shown to assist hair growth — reishi, chaga and snow mushroom. Reishi and chaga mushrooms have also been shown to help reduce the impact of stress.
The brand's CEO Aaron Hefter says there is currently a white space in the ingestible beauty category for products that target hair and go beyond the basic biotin supplements. "Consumers are smart. They're not just looking at the front of the packaging, they're turning it around and seeing what's inside the product. They want to know and understand what they're putting in their body," Hefter adds.
Do hair growth supplements actually work?
The experts Thingtesting spoke to agreed that using supplements with ingredients that are beneficial to hair growth can be helpful. However, they warned that supplements are not a "silver bullet" and should be taken as part of a more holistic effort to boost hair health.
"Diet plays a huge role," says Gaboardi. "[But] when you have a healthy meal or take supplements, your body feeds the other organs that are more important [first]. Your hair and skin are always the last to be fed." She says that supplements alone will not provide enough nutrition to ensure that hair also sees a boost, and that they must be taken in conjunction with efforts to eat a nutrient-dense diet. "It's important to have a good diet and a good supplement regime."
Laubscher says that she would never recommend a supplement as a sole approach to boosting hair growth — instead, she says supplementation is always recommended as part of a broader regime that includes doing your best to "eat clean, keep the vino for the weekend, live a balanced life, get your stress under control, and do your exercise."
But after all that, who's to say you'd really need that hair growth supplement?