Why brands like JuneShine are pivoting away from direct-to-consumer sales
On September 28th, JuneShine stopped selling spiked kombucha on its website, saying goodbye to over $4.5 million in revenues. Was it worth it?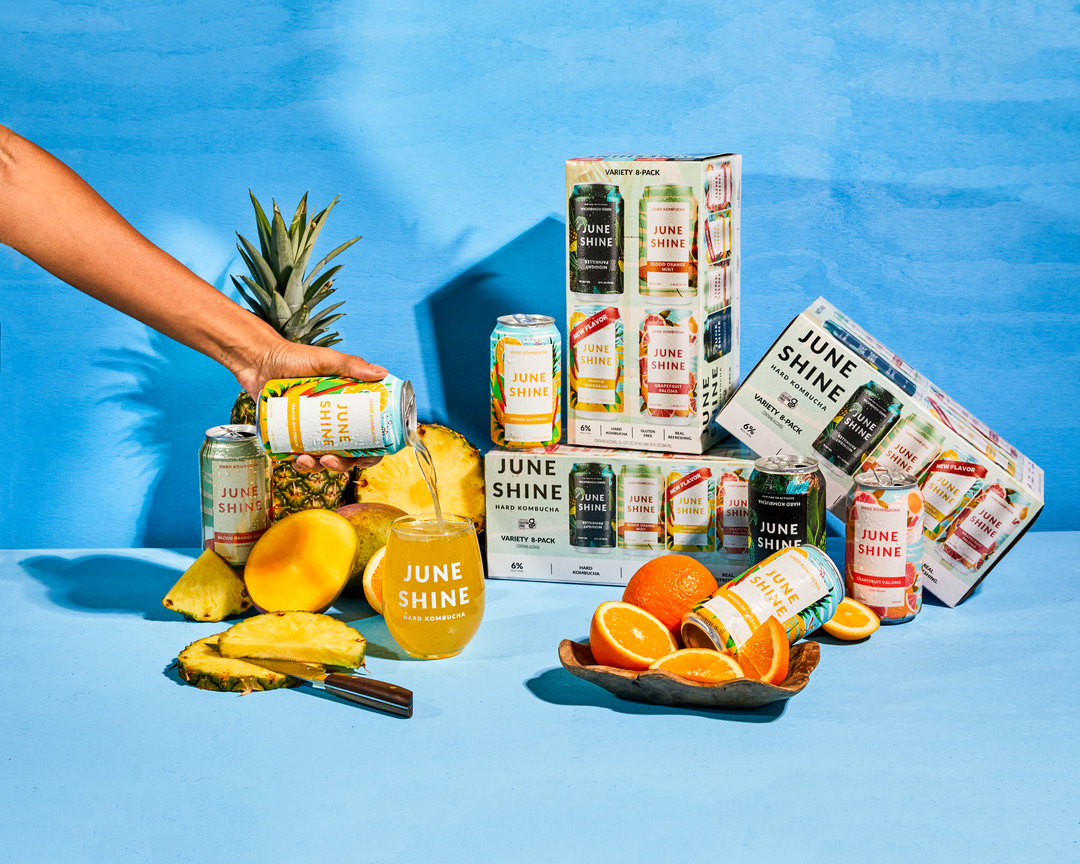 What do brands do when the going gets tough? They pivot.
These changes can be extreme overhauls or simple tweaks to focus on what makes the most money for the brand. In 2015, synth maker Teenage Engineering launched its $49 "pocket operator" — it marked a pivot towards selling more affordable music machines, intended to appeal to a wider audience. In 2021, direct-to-consumer umbrella company Pattern pivoted to start buying brands that already existed instead of building new ones themselves. When the pandemic hit in 2020, pivots were everywhere: restaurants launched DIY meal kits, beauty brands made video tutorials and everyone started making hand sanitizer.
Now, with the cost of doing business rising, a number of digitally native brands are considering pivoting away from selling their products directly to customers through their websites.
Liquid Death no longer sells its canned water direct-to-consumer, instead directing customers to Amazon. Supplement brand Your Super is focusing on getting in with retailers like Target and CVS as it works towards profitability, while Peloton has signed its first brick-and-mortar wholesale deal with Dicks Sporting Goods.
Why JuneShine stopped selling direct-to-consumer
On September 28th, hard kombucha brand JuneShine stopped selling its drinks through its website, despite generating upwards of $4.5 million in direct-to-consumer sales in 2021.
JuneShine launched its online store in early 2021, in response to the pandemic shuttering the bars and restaurants where its drinks were sold. It was a huge hit, says cofounder Forrest Dein, with direct-to-consumer sales growing faster than wholesale orders. "But then as quickly as it grew, it started to shrink," he says.
Dein says that as COVID cases declined, and the hospitality sector opened again, people were less interested in buying alcoholic drinks online. Meanwhile, it was becoming more expensive to sell the drinks online. Dein says that following Apple's iOS 14 updates, for example, JuneShine's cost of acquiring customers increased from $20-30 to "over $100."
It was tough walking away from the sales channel, which was bringing in revenues of just under $1 million a month at its peak. "It was a hard thing to walk away from," Dein says. But "it wasn't super profitable," he adds. "Even when you just look at above the line — cost of goods, shipping, fulfillment and packaging — it was lower margin than wholesale."
Dein says that even when comparing the best DTC sales months, wholesale orders were generating between 4-5 times as much revenue for the business. "Every dollar we put into wholesale is building a long-term revenue stream that's much higher margin. You can't say the same for direct-to-consumer."
The decision was made easier due to the fact JuneShine had originally started building its business in 2018 with a wholesale model, Dein says, adding that the long-term plan is for 90-95% of JuneShine's business to come from wholesale orders. Drawbacks of turning off this sales tap include not having as much visibility over who JuneShine's customer is, and not being able to build relationships with top fans of the brand as easily.
JuneShine is in the process of updating its website to direct people to their closest stores, or to buy via apps like Drizly or GoPuff, and Dein says the brand's founders have personally reached out to the online store's top spenders.
One of those customers had spent thousands of dollars on JuneShine in the past year, Dein says. To thank them for being a customer — and to make sure they weren't too disappointed about not being able to order online any more — Dein sent a hand-written thank you letter along with a box of free merch and booch.