wildwonder
wildwonder makes delicious sparkling drinks using herbs and superfoods that elevate your gut health, immunity, and mood.
drinkwildwonder.com
Average rating from 18 users
92%Recommend to a friend
wildwonder Reviews
All

18
wildwonder

1
Peach Ginger

1
these are my absolute FAVORITE and perfect for mocktails or on its own!
---
tastes so good! aapi-founded - love her story
---
---
Received a free product from wildwonder
Refreshing flavor, perfect tartness, and not too overly sweet! Love the branding, products, and mission of the brand—the brand is AAPI + woman founded, and they donate 5% of their profits towards empowering marginalized communities. (Received this first product for free from Aisle, but I'll definitely be purchasing on my own!)
---
What is Thingtesting?
Thingtesting is an unbiased place to research and review internet-born brands — because honest reviews help us all shop better. Learn more.
---
I've only had the gauva rose and can't wait to try other flavors. While these are good, I wish they had less sugar/sweet. I'd definitely add these to sparkling drinks list to stock up each month.
---
I got the mango flavor which maybe influences my review, but I really liked it. When I saw the carb count I thought it was all sugar at first, but it has a decent amount of fiber. I thought it was pretty tasty and the mango flavor wasn't artificial tasting!
---
Grabbed one of these while at the airport and was very refreshing and definitely supported gut health.
---
I tried the strawberry passionfruit and thought it was sweet and refreshing. It had a nice summery flavor. I love the bright packaging, it matches the drinks nicely. But I am just not a big fan of the other drink combinations that I have tried.
---
Wow, loved the Peach Ginger so much! Not too sweet, very real tasting fruits. This flavor rocked. I've been feeling a little under the weather and this is just what I needed.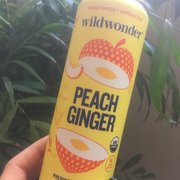 ---
wildwonder makes really refreshing sodas! The guava rose is a really delicious floral flavor that's not too overpowering. The pear turmeric is also lovely. It tastes like a cider. I love that the company is really committed to uplifting female entrepreneurship.
---