Tuft the World
3 • 5 Reviews
Tuft the World provides all high-quality tools, materials, and instruction needed to make professional and stunning rugs at home.
tuftinggun.com
Average rating from 5 users
60%Recommend to a friend
I started my tufting hobby months ago in hopes of turning this into a business and I heard a lot about Tuft the world and their products so I decided to buy their instant tufting frame since I knew nothing about building my own or where to go to DIY one. Their product and instructions were very easy to follow, I did have trouble with one screw which made my frame wonky, which is why I wish they provided spare materials in case things like this happened. Overall, that frame was a great start for a tufting beginner, and I recommend testing it out.
---
I had great experiences with Tuft the World! I started tufting three years ago and learned a ton from their website and how to videos. It's great if you are starting out! One thing I would suggest is making your own frame, rather than purchasing one from here because you can save yourself $50. Other than that, I always recommend this website to friends who want to get into it but don't know where to start!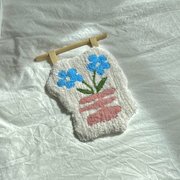 ---
---
At first everything was great but then I started to have problems with my tufting gun, it wouldn't cut even though it's a cut pile machine, I didn't mess with the gears at all so idk why it would do that. After trial and error nothing helped, I even changed out the scissors with the extra scissors I received in the package. It actually made my gun worse. I attempted to buy a replacement gun and use my points but it didn't give me the option and automatically accepted payment w/out any points and when I immediately tried to cancel they ignored my request, and proceeded to ship the package. When I finally get a response from them after a week or so they told me I had to wait until it shipped to me then I could return it. Overall bad customer service and horrible website. I had over 2000 points and now I only have 83… I guess when you try to redeem points you HAVE to use it them or you just lose it. It really sucks. Won't be buying from them again.
---
What is Thingtesting?
Thingtesting is an unbiased place to research and review internet-born brands — because honest reviews help us all shop better. Learn more.
---
I was really excited to get into tufting (I never have before) and I got the Duo kit. It looked like it had everything I needed and upon getting it it states right on the box that a user manual is included (like there should be with any machine and has specially named parts and requires basic care and maintenance). Not only was there not a manual in the box, there isn't one made at all! I contacted customer service (chat took a 45 min wait, they don't respond to emails it's been weeks that I've been waiting for an answer) and they sent me a couple links to videos I could watch. Videos aren't helpful to everyone. I do not want to sit and have to pause and go back and watch a video a hundred times to have to listen to what someone is saying over and over and over again. There's no mention at all in their product information on the website that there's no user manuals, and people from almost a year ago also are stating there were none back then. They're selling an unfinished product with false information. I've already put my frame together and tossed the shipping box so I'm stuck having to look up all the information (in written form) myself. This is massively disappointing and I no longer trust ordering from this company.
Feedback
What could be better is if the company makes the user manual already! Not everyone can or wants to use videos for instruction. For new people considering anything from this company, if you don't do well with only video instruction I'd probably look elsewhere. It doesn't sound like they are ever going to make a written manual.
---
I like tuft the world because it's a major place to buy everything alol at once but recently I tried the recycled wool yarn and I've never been so frustrated working with a material… .it tangled , My scissors would not cut the yarn while it was pushing it through, I thought maybe it was my scissors and they were dull but after when I try to manually cut the yarn with my duckbill scissors I had just as hard of time cutting through the yarn. Because of this it was creating a loop pile instead of a cut pile look. It would constantly become tangled and I would have to re-thread my gun almost every single line that I would tuft. I would not recommend this yarn to anybody. It was extremely frustrating, a project that usually takes me about an hour took me about three. Personally I will not buy this product again. I haven't had issues with any of their other products but this was such an problem to me it really made me question them.
---