The Unscented Company
5 • 2 Reviews
The Unscented Company makes and ships effective home and body care essentials designed for conscious living.
www.unscentedco.com
Average rating from 2 users
The Unscented Company Reviews
All

2
All purpose

1
cleaner

1
soap

1
detergent

1
Influencer for The Unscented Company
The perfect home cleaning essentials - they don't leave any residue/scent behind in your home after using! Unlike a lot of natural cleaners, they actually foam up to have a very nice sudsy feel! Also - a little goes a long way and this is coming from someone who does NOT hold back /conserve when using products ahaha really could not recommend enough!
All purpose
cleaner
soap
detergent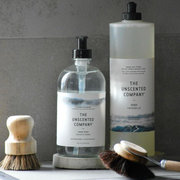 ---
Such a beautiful brand, based out Canada where all the best ideas come from IMO! Love using their products because people in my household get reactions from scented products so these are great quality ones to use.
Feedback
Can't wait to see what else they come out with down the line!
---