Average rating from 4 users
100%Recommend to a friend
I absolutely adore the GLOW & Collagen combo, it's a sacred part of my morning routine & is so freakin delicious. I used to always have at least one pimple to deal with at any given time, but with these products they now only ever appear when approaching the beginning of a new cycle - and when those appear, I find they now tend to heal themselves much faster than they used to, rarely every amounting to much. Something else I love about The Beauty Chef is that they regularly have special promotions & sales, so I'm almost always able to save when repurchasing my combo. Highly recommend, (and actually tempted to make another glass right now..!) ♡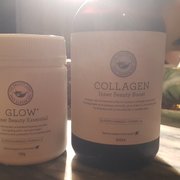 ---
The Beauty Chef makes a lot of claims so I was a little hesitant to try these products at first. I really enjoy their hydration boost though! It tastes delicious and can be taken in a smoothie or just water.
---
---
I've tried all 4 of the Inner Beauty Boost elixirs - COLLAGEN, HYDRATION, ANTIOXIDANT, ADAPTOGEN, and the GLOW Inner Beauty Essential powder.
Feedback
Each elixir has its own unique flavour, and they all taste fresh, natural, and delicious. My favourite is the HYDRATION elixir which has a subtle sweet coconut flavour. I love starting every morning with a glass of cold filtered water and a tablespoon of one of the elixirs mixed in. It's such a treat and makes me feel hydrated, energised, and happy. The elixir is a liquid, so it mixes into the water in one quick stir. So easy. The GLOW beauty powder has a tangy berry flavour. I add 1 teaspoon to my smoothies and it makes them taste so good! I also like to mix a tiny bit into Greek yogurt (a little bit goes a long way with the yogurt) and have that with fresh papaya, almond butter, and coconut flakes for a summer breakfast 😋 I will definitely continue to purchase the elixirs and the powder!
---
What is Thingtesting?
Thingtesting is an unbiased place to research and review internet-born brands — because honest reviews help us all shop better. Learn more.
---
I love the idea of healing and nourishing skin from within. I tend to be very acne prone, and Beauty Chef has a variety of products and supplements to help with that. The taste isn't great, but it's natural and easy to mix. The products do tend to be a bit pricey, but most supplements for skincare are.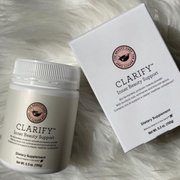 ---