Average rating from 18 users
76%Recommend to a friend
There is for sure a learning curve. I checked out Insta and Tiktok to watch some videos before I tried and it was not as easy as they made it look. I like the packaging and also all the info they include. I purchased the kit at Ulta with 2 kinds of wax and the cloth pads. The pads were super easy to clean and re use. I will keep trying and update.
---
I've been wanting to try Sugardoh for a while and it was WELL worth the wait! I constantly get ingrown hairs whenever I shave my legs and find that it's only a few days until I feel stubbly again. Waxing really isn't all that feasible price-wise, and I'd heard a lot about sugaring instead. Shipping was fast, it was super intuitive to learn, and my legs feel so much smoother than they ever have after shaving.
---
---
I wanted to love it, but I found the product really hard to use. I should note that I am not one of those women who watches a hair tutorial on YouTube and is able to replicate it at home so I may frankly be the wrong person to try this. I love the brand's mission, but I found the product hard to get out of the container, hard to use, painful and not all that good at removing my hair. It does create a bit of a sticky mess, but that is easily cleaned with hot water.
Feedback
Insights on how to use this product for novices would be helpful. I still want to use the rest of my jar!
---
What is Thingtesting?
Thingtesting is an unbiased place to research and review internet-born brands — because honest reviews help us all shop better. Learn more.
---
A bit of a learning curve, but it's pretty painless and definitely easier than trying to use hard wax on yourself! I like that it's compostable and can just be washed off with warm water no matter how messy. Glad I pushed myself to try this!
---
I found this product on tiktok and had to try it! I hate shaving and think it's so ridiculous that women are expected to be hairless. This product made me feel more empowered to do my hair removal practices how/when i want to.
Feedback
A bit challenging to learn how to use. I'm still very much learning!
---
Seriously life changing. I've always struggled with hair that grows back so quickly but with Sugardoh - I am truly shocked to say I typically don't see any hair growing back for 3 weeks at least- amazing! I love how long the bottle lasts- not only kind to the environment but also kind to my wallet. Loyal fan for life!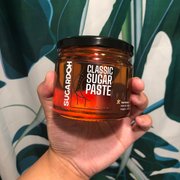 ---
Sugardoh is fun and easy to use. It has honestly revolutionized my perception and routine for body hair removal. It may take some patience to learn, but I now feel confident sugaring myself after only a few times. I love that I can quickly sugar my armpits and not have to worry about them for weeks - It has completely replaced shaving. Highly recommended for all humans with hair.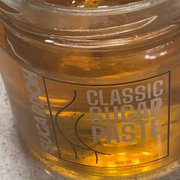 ---
Okay so I am obviously bias but as hairy brown girl with sensitive skin Sugardoh has been my holy grail product. It's compostable, doesn't require heat, and washes off easily with water. And the jar lasts FOREVER. Not going to lie, there is definitely a learning curve but the Sugardoh website and social media pages are chock-full of tutorials and hot tips. Another word of caution: this might change your life.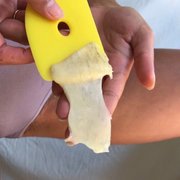 ---
I am such a huge fan of Sugardoh! I found the company (like so many others) on Tiktok. I ordered right away because I was tired of either shaving or paying so much $ to get waxed by someone else. I found it pretty easy to get started and have been sugaring ever since! I love the eco-friendly packaging and inclusivity of the brand. I'm a sucker for cute packaging and their jars + the sugar paste are soo cute!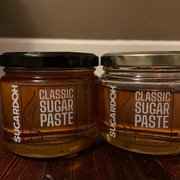 ---
Absolutely in love!! My first package (of the classic paste) came broken, which crushed me because I was super excited so I reached out and within a day I had a super friendly and helpful response offering solutions. I just got another one, and I used it and it worked so well on my god it's been about a week or two and i love it, no need to shave! Definitely Also recommend the applicator, it made it so much easier than using my hands. im definitely coming back and buying my sugaring product here again I just can't thank them enough for all they did to make sure I was more than satisfied with their amazing product :)
Feedback
Nothing! Honestly, it was my own fault I forgot to put shipping protection on, but I won't make that mistake again :)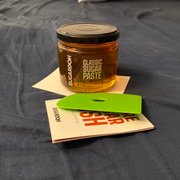 ---