Average rating from 6 users
Works great! I've been using cadence capsules for a year or so now but wanted something a bit bigger for longer trips, and this fits the bill perfectly! I love that it twists to lock, and the airless pumps work great too.
Feedback
I'd love to see more label options
---
Not totally sure how I feel about this product yet. It's large - sort of too big to travel with a few of them. And I have to tilt it to get the product out and I'm not sure if that's by design.
---
---
I thought I found travel containers that would be great for me…turns out I was mistaken :( I've used them three times and each time I've put them in a ziplock and have been grateful that I did that because the product spilled out. I chalked the first two times up to not closing them correctly or not paying attention because I was in a rush, but this last time I took my time to close them properly and made sure they weren't overfilled. And yet when I got to my hotel, there was soap all over the bottles and the bag. The interior container is also difficult to push up once you get towards the end of the product. Since this causes a gap, a bunch of water got in there when I rinsed the containers off before packing them up, which made it more time consuming. It's also difficult to get that last little bit out of the container; I ended up opening the top and using my hands instead of the pump. Maybe I'm still doing something incorrectly but I am super disappointed that these aren't working out for me.
Feedback
A lock that doesn't budge as easily would be helpful with spillage. The smaller containers they just came out with might help with some of the other issues I identified.
---
What is Thingtesting?
Thingtesting is an unbiased place to research and review internet-born brands — because honest reviews help us all shop better. Learn more.
---
I loved these travel bottles. Beautiful, clean design & they are made from recycled materials so I love the sustainable message. I love the way the caps lock for traveling and they did not leak!
Feedback
The only feedback i have is: please make more sizes so i can have smaller bottles for my face serums :)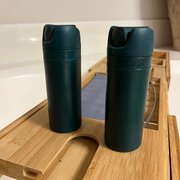 ---
I love this product. I travel with body and hair products on the pricier side when going on vacation or even a weekend out of town, so being able to put them in chic RIES bottles is everything! The unisex color is PERFECT. I can't wait for more products! This is something that's been needed in the beauty industry. The whole brand feels so classy and cool. Everything is done with the perfect taste! Not getting paid to write this! I actually just really love AND use it all the time!
---
I actually use this product everyday! Of course it's great for traveling, but the design is so chic and durable that I use it instead of the original bottles my products come in. It also holds so much of my product that I still haven't had to replace my products yet!
Feedback
I would also love an even smaller size to fit in my dob kit. I love having the original size for my bathroom at home and would love a smaller for traveling.
---