Redoux
4.17 • 6 Reviews
Redoux sells vegan facial serums, botanical soap bars, and moisturizing balms featuring sophisticated scents.
redoux.nyc
Average rating from 6 users
100%Recommend to a friend
Redoux has completely transformed my skincare routine with their exceptional vegan facial serums, botanical soap bars, and moisturizing balms. Not only do these products nourish my skin, but they also envelop me in sophisticated scents that make every skincare ritual a pampering delight for the senses. Let's start with the facial serums. They are lightweight, yet incredibly potent, delivering a concentrated blend of botanical goodness to my skin. The vegan formula ensures that no harm is done to animals, and the serums are packed with natural ingredients that provide intense hydration and targeted benefits. I've noticed a remarkable improvement in the texture and radiance of my skin since incorporating Redoux's serums into my daily routine. The botanical soap bars are a true luxury. They lather beautifully and cleanse my skin without stripping away its natural moisture. What sets them apart is the sophisticated scents that linger delicately on the skin. Whether I choose the refreshing citrus notes or the calming floral bouquet, these soap bars turn my shower time into a fragrant and indulgent experience. To complete my skincare routine, I rely on Redoux's moisturizing balms. They are rich, yet non-greasy, sinking effortlessly into my skin and leaving it feeling soft and supple. The scents are refined and sophisticated, adding a touch of luxury to my daily moisturizing ritual. I love how the balms seal in hydration, keeping my skin nourished throughout the day. Overall, Redoux has mastered the art of creating vegan skincare products that are effective, luxurious, and a treat for the senses. If you're seeking a skincare experience that combines high-quality ingredients, sophisticated scents, and ethical values, look no further than Redoux.
---
I love that REDOUX is a Bipoc-owned business. Their soaps are amazing quality and a great gifting price point.
Feedback
I'd love to try their serums, but the cost is pretty pricey. I hope this will go down as REDOUX continues to grow? Otherwise, I'm happy with my Turmeric Soaps.
---
---
Love this brand as a little luxurious shower moment. The soap bars smell earthy yet sophisticated- the founder is a fragrance expert with a unique sense of smell! I love stocking up on their soaps when they do their misfit drops (discounted slightly misshapen soaps).
---
What is Thingtesting?
Thingtesting is an unbiased place to research and review internet-born brands — because honest reviews help us all shop better. Learn more.
---
Their candles and soaps are amazing. I burn the candle almost daily at night. I like to keep it also near me when it's not burning because the wax smells so good. The soap is also fantastic. I would recommend keeping it in a dry part of your shower to ensure that it lasts longer. I use the soap as a body soap although it seems gentle enough that you might be able to use it for the face as well. I enjoyed a lot my experience and will continue buying!
Feedback
Shipping can be a bit slow at times, but it's important to understand that the pandemic has disrupted a lot of supply chains and shipping carriers!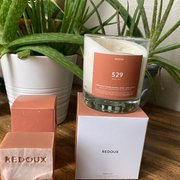 ---
This is day 1 if your your soap for removing dark spots. I've tried everything, nothing works . So I bought this Redoux to see if it will help. Wish me luck.
---
Got it for my girl she likes it
---