Power Up Foods
4.8 • 15 Reviews
Power Up Foods (PUFs) makes caffeinated snacks with green tea caffeine to give you sustained energy without jitters or a crash.
powerupfoods.com
Average rating from 15 users
93%Recommend to a friend
Received a free product from Power Up Foods
I'm a big coffee drinker, so was kind of skeptical of a brownie that would mean I'd potentially miss out on a cup of coffee. Having said that the brownie tasted good, especially given it's vegan and healthier than a lot of brownies out there. The texture was pleasing, and overall I was pleasantly surprised. Another plus is the pouches containing two brownies - this makes portion control much easier!
Feedback
It's more expensive than I'd probably pay for a brownie, plus I'd love more, and bigger chocolate chunks.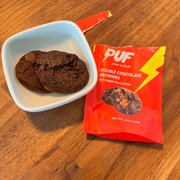 ---
Received a free product from Power Up Foods
PUF sent product for our team offsite and I was thoroughly impressed by the brownies and wished there were more than two per bag, but the caffeine definitely kept me from opening another package... good moderation control. I definitely felt an increase in energy but wasn't jittery like I am from drinking coffee.
Feedback
Idk! make the brownies without caffeine so I can eat more of 'em 👀👀👀
---
---
Received a free product from Power Up Foods
They were okay. They tasted like brownies and their consistency mushy and not as dry as one would fear from cake coming out a bag. I guess the best word to describe my experience was meh. Wasn't great, wasn't bad, and I remember my initial impression was that they are unremarkable. I didn't really notice the effects of the caffeine that much, but I guess it woke me up a little.
---
What is Thingtesting?
Thingtesting is an unbiased place to research and review internet-born brands — because honest reviews help us all shop better. Learn more.
---
I really loved the flavor and texture of the chocolate chip cookie. The caffeine isn't what made me purchase the product...more so looking for a solid BFY cookie alternative that is on-the-go and doesn't have a strong alternative sweetener taste - THIS IS IT! This is one of my favorite soft cookies I've had. No weird sweetener taste.
Feedback
My only thought that I saw mentioned here in a different comment is wanting to eat this before bed but not being able to because of the caffeine. I do think having a sleep time version or just regular without caffeine could increase the use cases for this product.
---
I tried the brownies and the cookies and LOVED them. They tasted great and gave me a solid energy boost without any jitters or crash.
Feedback
I'd love to see a "sleepy time" version that has melatonin instead of caffeine! I keep wanting to eat PUFS at night and have to stop myself!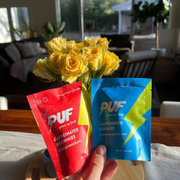 ---
Fantastic food product. I quite enjoyed the chocolate chip coconut cookie!
---
Friends with Power Up Foods
Obsessed! My fav are the brownies! Sometimes I just need a little clean energy pick up during the work day and this is perfect. I love that you get a little bit of food intake with your caffeine so it's not just caffeine to the head. Perfect amount of sweetness too!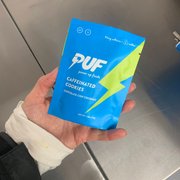 ---
Friends with Power Up Foods
I really liked PUFs! I've tasted their energy balls, brownies, and cookies and they all taste great. Much tastier than other energy bars/drinks I've tried in the past. I had a great boost of energy after eating them!
---
LOVE PUFs. I've tried out so many caffeine alternatives (snack bars, gum, tea, mints...) but PUFs is my favorite! The flavors make it my go-to snack for an afternoon slump (try the chocolate chip cookies!!!) without feeling guilty. We all have those mornings when we're late to work but don't want to skip the coffee... now I have PUFs! Added bonus that it saves money over buying coffee every day. Highly recommend!
---
Absolutely LOVE PUFs! The perfect level of caffeine for an on-the-go morning or afternoon pick me up. The combo of ingredients is also really good for managing blood sugar levels (I always crash after a breakfast that is too carby). Excited to see the next variety from PUFs!
---