Average rating from 11 users
100%Recommend to a friend
BEST men's moisturizer out there... first one with seal of acceptance by the National Eczema Foundation... active ingredients that WORK like niacinamide, hyaluronic acid, squalene, ceramides, and more! It's just an overall super enjoyable experience & massive results. It's a lightweight gel cream that never makes me feel greasy. Especially great for post shaving, reduces any irritation or redness & calms acne!
Feedback
Can't wait to see even more from this brand... I think they'd kill it with a gel cleanser or an active packed eye cream! Love seeing innovations that steer away from the classic men's skincare marketing with buzzword ingredients & actually use ingredients that work & benefit us!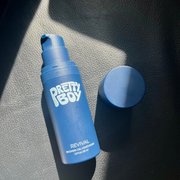 ---
Take my money!!! Guys this face cream is all that. My face went from having many expression marks and being oily with the occasional pimple to smooth af clear skin and dramatic reduction of expression lines and marks. I don't know about using this as shaving cream but the after shaves works ok and have a refreshing after feeling.
Feedback
Make the subscription more accessible and maybe create some sort of deal?
---
---
I honestly never thought too much about my skin, especially face. I was so lazy and would use hand lotion whenever my face felt dry just to get by. Gave this a try and its crazy the day to day difference. Its just a part of my daily habits now.
Feedback
Its easy to pack away and you're never left with that weird feeling on your hands other lotions typically leave.
---
What is Thingtesting?
Thingtesting is an unbiased place to research and review internet-born brands — because honest reviews help us all shop better. Learn more.
---
This is the first product I have found that helps soothe my eczema !! It instantly takes away any itchiness and irritation. I love how light it feels under my makeup. Highly recommend !
---
Exactly what I needed to combat winter's drying/cracking effect on my skin. In the past I've reluctantly applied lotion as I can't stand the greasy feeling. This product absorbs super fast and provides my skin much needed relief. Seems like a great company too! Wish I would have found this sooner!
---
This product is the first I've used that combats my odd combination of oily and dry skin. It's refreshing, moisturizing, and lasts all day. The texture is user-friendly (not thick, doesn't leave a trace). I recommend this product to any friends who have daily skincare routines.
---
Great product. I replaced Kiel's with Prettyboy and have used it for the last 2 years. It feels as good as the first time I applied it every day. Redness gone, smoother, well moisturized, simple, and convenient size. Won't go back. A little more expensive, but worth the money for the better ingredients.
Feedback
It's important to be consistent with your use.
---
As a guy that cares about his health and the products he's using, can confidently say this is the first mens product I have found for my face that I love. Would highly recommend any dude to get it…my wife even loves it too
---
I love using Revival as my daily moisturizer - the lightweight, gel texture is the perfect primer before applying makeup. The formula is super soothing and really calms my redness.
---
I've never used lotion or skincare items before. Lately I noticed that I was getting dry skin on my face pretty consistently (not sure if it was the change in weather or other reasons), but PrettyBoy has been a great moisturizer. You know it's good if I use it every morning now, compared to my years and years of never taking care of my skin.
---