Average rating from 10 users
100%
Recommend to a friend
The Ooni Koda 12 pizza oven is a game-changer for pizza lovers on the go and at home. Its portable design makes it easy to travel with and enjoy wood-fired pizza wherever you are. Whether it's a cozy dinner for two or a large party, this oven delivers perfect results every time. With its rapid heating and high temperatures, it cooks pizzas to perfection in just minutes. Cleaning is a breeze, allowing you to focus on enjoying your delicious creations. I've had mine for almost 2 years now and have really put it to good use. Some failures but lots of success. Only wish I had gotten the 16 inch! Also highly recommend getting the turning peel!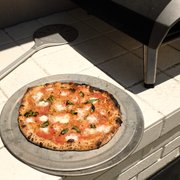 ---
The ooni is great! Love using it for pizzas.
---
---
I bought the ooni pellet pizza oven for one of my closest friends and he really loved it. It's a bit of a learning curve, but once you get the hang of it, you will wonder why you ever ordered pizza out.
Feedback
It shipped safely and instructions were easy to follow. I would love to buy one for myself in the near future, as I moved farther away from my friend and don't get to enjoy these pizzas anymore. Back when I purchased this one it was the beginnings of Ooni and they have since expanded on these ovens. Highly recommend
---
What is Thingtesting?
Thingtesting is an unbiased place to research and review internet-born brands — because honest reviews help us all shop better. Learn more.
---
Great product! Portable and the height of the oven allows my husband to easily flip the pizza. For anyone who orders a lot of pizza, its worth the money because it makes restaurant-quality pizza (but healthier!). We save about $15 every time we make pizza.
---
Obsessed with my Ooni Fyra! I received it as a wedding gift, but would 100% purchase it on my own. While there's a bit of a learning curve with the wood pellets and getting your dough just right, once you get the hang of it, it's such a fun things to do with friends! Most recently, I brought it to the park and had a pizza + pickleball party. Pizza comes out so, so good. Highly recommend!
---
We have one of the wood fired ovens. My husband is celiac, so we make exclusively gluten free pizzas. The Caputo Fioreglut flour is a must for making GF pizza dough. There is a definite learning curve, especially with getting the pizza to not stick to the peel, so a few practice runs are recommended. We found that olive oil is more effective than extra flour for preventing sticking with GF dough. Once you get the hang of it though, it makes an excellent and authentic tasting pizza!
Feedback
Could be easier to clean.
---
Oooo me! Ooni! My last supper meal has always been and will be: PIZZA. What can I say I'm a feen. When the Ooni Koda 12 went on sale at my local Costco I just could resist. This product has been a huge attention grabber this summer. Attracting one and all to my patio to view the seductive 900 degree flame turn dough into dinner. This product isn't just another "kitchen tool." It is a social event and an experience. The only drawback to this product is that it does require some experience with a pizza peel. Some of my virgin pizza making guests did experience some degree of the difficulty cooking pizza in the Ooni. Once one is able to experiment and work with the product they will find their groove and in return find themselves with a glorious outstanding Napoletana style pizza. Worth the money .. NO DUH. But perfection requires patience.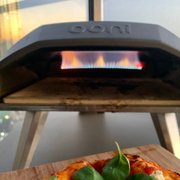 ---
Love the ease and portability of the Ooni. Heats up quick and stays hot so you have a smooth pizza baking experience. I've used my oven 3-4 times and already feel like a pizza pro.
Feedback
I purchased one of the midrange units but next time I would definitely buy one of their larger ovens. I sometimes feel restricted by the smaller option I chose.
---
A bit of a learning curve, but produces great pizzas after you get the hang of it. Great selection of accessories, including the large table, toppings station, peels and brushes.
---