Average rating from 3 users
NoT provides a new angle to self-care and beauty while providing great results in a luxurious way. NoT walked so SKKN could run (NoT is wayyy better though)
---
I added Nature of Things cleansing scalp and body polish to my skincare routine a few months ago. I was originally drawn to their modern and minimalist packaging. What can I say, I'm a sucker for form and function! I like the smell, reminds me of geranium and pine.
Feedback
The only thing that would Make this better would be a little more "grit" to really get the exfoliating effect on your scalp.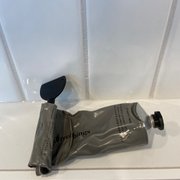 ---
---
Received a free product from Nature of Things
I've had the immense pleasure of trying a few of their products. Everything is just SO FREAKIN LUXURIOUS. Definitely a special-occasion splurge for me—especially the bath soaks, which cost a ton—but I can't be mad about it. Feels like going to the spa.
---