Average rating from 141 users
97%Recommend to a friend
MERIT Reviews
All

141
Minimalist perfecting stick

14
Lipstick

8
blush

8
Highlighter

6
bronzer

4
brow pomade

3
mascara

3
lipoil

2
lipgloss

2
eye shadow

2
Good Skin Serum

1
Instant Glow Serum

1
gelee

1
lipliner

1
complexion stick

1
Brush

1
the minimalist perfecting stick is my go-to for foundation (beige) and contour (sepia) because they melt into the skin and provide a natural finish. the coverage is buildable and works as a concealer on dark spots/redness. A MOMENT FOR THE PACKAGING. that's all.
Minimalist perfecting stick
---
One of my favourite clean makeup brands in terms of pigmentation and wear! These products layer really nice, are super blendable and are very long lasting. Super luxe formulas - but a little pricey for the sizes! Wish they came with more product <3
Lipstick
complexion stick
gelee
lipgloss
eye shadow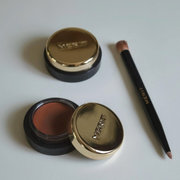 ---
---
AMAZING easy makeup experience. These products look amazing on everyone - easy to apply, fool proof, and effortless makeup application. I love watching their tutorials to learn more. I also love the way the makeup is packaged - makes application so simple.
Highlighter
blush
bronzer
brow pomade
Minimalist perfecting stick
---
What is Thingtesting?
Thingtesting is an unbiased place to research and review internet-born brands — because honest reviews help us all shop better. Learn more.
---
Love all of the merit products i use and theyve become staples in my makeup routine (the bronzer stick which is so easy to apply bronzy contour and the brow gel). Love that it doesnt clog my pores!! Really want to try some other merit products to add to my makeup collection.
---
I enjoy the merit blush. The colors are soft and warm and sits well on the skin.
---
I use their bronzer and blush every single day. As a college student I need something fast and this is so easy to apply.
---
I would buy the lip oil in every single shade. Their products feel great, don't clog my pores, and help me feel confident in minimal makeup. Plus, the bags they give with online orders are super cute!
---
I'm happy to jump onto the Merit train – the internet is full of Merit ads right now but I actually loved the Merit products I used. It's all very lightweight and beginner friendly, perfect for someone who likes having a simple, but elegant getting ready routine. Also, the lippie in Marrakech is a staple in my bag now!
---
I love the blush, it's ligthweight and so pretty on the skin.
---