Lusso Cloud
4.4 • 5 Reviews
Lusso Cloud makes soft and supportive slippers and shoes featuring memory foam in their Triple Stack Technology formula.
lussocloud.com
Average rating from 5 users
100%Recommend to a friend
Look: love them. They are definitely "cooler" crocs. Still pretty ugly. But I'll wear the hell out of them/might buy a second color. Feel: so comfy. Like clouds. Hence the name. Size: other Thingtesters noted this, but the sizing is a bit off. I'm generally a 6.5/7 women's and I bought the M5/W7 and standing they are perfect. When I walk my toes curl a bit but I think a full size up will be too big. I'm keeping them.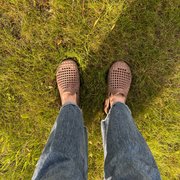 ---
I recently developed metatarsal pain and needed soft supportive slippers to wear in the house. Wasn't too into the way crocs and other clogs looked, but these were comfy AND stylish. I loved the slippers so much I also bought a second pair of the slip-ons.
Feedback
When ordering sizes, order up. (I had to order 2 sizes up) The arch is a bit high, which shifted my foot forward a bit. I usually wear an 8.5. The 9W fit, but my toes touched the front and it was enough to annoy me. The 10W was much better and roomier for me.
---
---
I love these! They are minimal in style and so comfortable. I love their range in styles and colors. It took me a while to understand their sizing since they have 2 sizes. Each size has a (M)en and (W)omen size. I usually wear a size 5.5 and got a M4,F5 and it was too small. They do not have half sizes so that is why I gave them a 4. My food does slip out a bit wile walking in them so sizing up is needed. UPDATE: I ended up returning the shoes and sizing up and they fit great!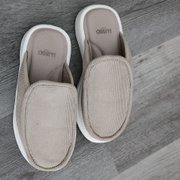 ---
What is Thingtesting?
Thingtesting is an unbiased place to research and review internet-born brands — because honest reviews help us all shop better. Learn more.
---
I am now on my second paid of Lusso Cloud slippers. I started wearing slippers around the house during the pandemic and immediately bought their first run of slippers when the brand launched. My fiance recently got me a second paid and i wear them all day around the house when working from home. I occasionally travel out of the house in them as well. They wash easily when they begin to smell and come in so many colors/designs its a great brand.
Feedback
Can't wait to see the brand grow and expand to other areas. Recently purchased the socks as well - love it all.
---
Love the look of the slides.. love how they are very lightweight… but I really wish they would offer these without the huge hump for the arch… it really makes these very uncomfortable for people that are used to flat slides.. I would however recommend them for look alone.
---