Kulala
Kulala makes a baby sleep lamp to enhance sleep quality and moods for infants.
kulalaland.com
Average rating from 11 users
100%Recommend to a friend
So far the new lamp has been an asset at bedtime. It's nice to know it's not disrupting sleep and it also provides a nice visual cue to wind down. Using it with the apps schedule will hopefully help our daughter sleep!
Feedback
I think it would be cool if it had a timed setting so it would turn off itself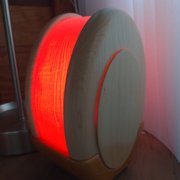 ---
I love how the Kulala lamp helps me to take care of my baby during the nights without affecting his rest. I has three options to make it brighter or darker, depending on how much light I need. And it also looks beautiful in my baby's nursery room.
Feedback
Nothing, I love it!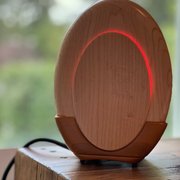 ---
---
I'm about to have my third baby boy so far I've got three kids in 5 years. Kulala has been the best sleep investment so far. Kids know the red color and it's already a pattern to wind down with red. Love that it's wooden and safe.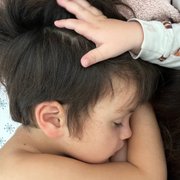 ---
What is Thingtesting?
Thingtesting is an unbiased place to research and review internet-born brands — because honest reviews help us all shop better. Learn more.
---
I was given a Kulala lamp with the goal of helping my eldest daughter (4 years old) with her nighttime wake-ups and to stop her coming up into our bed during the night. We followed the app advice and started her on the suggested sleep schedule whilst also incorporating the light and blockout blinds in her room. Whilst it was not a magic overnight fix for her, the consistent use of the red Kulala night light and schedule has helped her consistently gain full nights sleep and dramatically reduce the amount of times she comes into our bed. I have added my other 2 children's schedules and sleep concerns to the app and its wonderful to receive reminders on their day sleeps/ newborn feed timings. As a busy mum of 3 - it's easy to get lost and stop following their sleep schedules. I recommend this product highly for any new or existing parent looking to strengthen their children's sleep habits, and even their own. It is a truly remarkable product and the app is a great service to have and rely on. Not to mention the science behind it and having sleep scientists as a chat function to run through any issues you encounter. This product suits any parenting style and absolutely any family set up, including any age of baby, child or teen or adult.
Feedback
I honestly couldn't think of anything that requires improvement. I am very happy with this product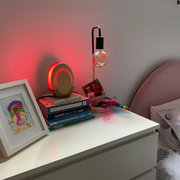 ---
The Kulala has been amazing at creating a consistent and healthy sleep routine for us. The gorgeous red glow of the lamp definitely helps get my babe into sleep-ready mode, which was loooooong overdue for this tired mama. I've actually started using this myself in the evenings and it works just as well for me as it does for him. I love the design- it's a beautiful, sculptural piece.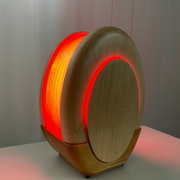 ---
I bought this lamp when my son was 2.5 months old and it has totally changed our lives. My son is a fussy napper and has trouble staying asleep but we started using the lamp in conjunction with Dr. Axelrod's sleep method and have definitely seen an improvement. I'm glad we got this lamp and looks great in the nursery too!
---
I received the Baby Sleep Lamp as a gift and I love it. I have 3 kids (sleeping in the same room) who all have had trouble falling asleep. The lamp calms them down in the evening and bed time routine and sleep has improved so much. We use the lamp every night. I like the sleek design, simplicity and that it is made of natural materials. It fits perfectly into our kids room.
---
Never slept better! I received this stylish, modern wood lamp as a gift and found that it not only looks super sleek on a bedside table... but actually works. The warm red light is so soothing and helps my mind/body wind down when its time for bed. This lamp is a go-to for new/expecting moms, or anyone needing a little help sleeping through the night.
---
Loved the sleek design and functionality of the lamp! I purchased it because I was desperate for better sleep and had heard it works for adults too. I've been really pleased with the product overall and have noticed my sleep quality has improved since using it. I would recommend this for adults and babies alike :)
---
Great experience with the Kulala Baby Sleep Lamp. Even though it is meant for babies, I loved the look and found it to be far more design-forward compared to other sleep lamps on the market. What I love is that it signals me to start calming down and to begin getting ready for bed. The red glow illuminates my apartment in a warming/ cozy way and I haven't slept this well in months! I'd highly suggest it for babies, mommas, and everyone!
---