House of Leon
🤝
Friends with House of Leon
Experience
I replaced my client's teak Lulu & Georgia chairs for these, and the difference in quality is significant. These chairs feel very heavy and durable, while L&G's chairs were surprisingly lightweight. This is RH quality, maybe even better.
Lovely customer support
High quality
Innovative product
Cool look & feel
Worth the money 💸
Amazing website
Luxury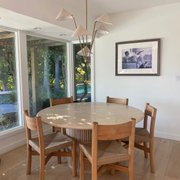 Kulala
Experience
Great experience with the Kulala Baby Sleep Lamp. Even though it is meant for babies, I loved the look and found it to be far more design-forward compared to other sleep lamps on the market. What I love is that it signals me to start calming down and to begin getting ready for bed. The red glow illuminates my apartment in a warming/ cozy way and I haven't slept this well in months! I'd highly suggest it for babies, mommas, and everyone!
Good for gifts 🎁
High quality
Innovative product
Cool look & feel
Worth the money 💸
Love the brand's mission 💕