Kissamo
5 • 12 Reviews
Kissamo makes high quality, personalized pet tags featuring laser engraving for a more precise and durable design.
www.kissamo.com
Average rating from 12 users
100%Recommend to a friend
Quality is top notch and designs are unique and timeless. We bought the Vancouver Special tag back in early 2020 and still use it today. The text never faded since it's etched. Because it's made of acrylic there's no jingle that could potentially become a stressor to my already sensitive pup. The owner Laurel is always supportive and informative with any questions about her products. Her innovative ideas always wow us (like when she came up with the phone straps for humans to recycle the small bits of acrylic!!)
Feedback
We can't think of anything!!! We love everything about Kissamo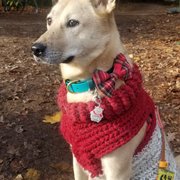 ---
I got my first kissamo tag just over a year ago. It was a peach for my new puppy coming home named Peach. To this day it has held up through all the puppy stages and trying to bite her tags. We now have tags for every season for Peach and my cat Meeko. I even have a special rainbow tag with a special engraving that I have on my keys for my dog that passed. Laurel is always so sweet and willing to work with you on any customizations you might want. All of her tags are unique and adorable! We always get complements on them. But best of all I think is the durability. I have tags on harnesses and collars that I just throw all in the wash after rolling in mud, sand, a lake, or the ocean and they hold up through all of it. I have never had one break, chip, or even fall off of a harness or collar. I have honestly not come across a single flaw with this wonderful small business.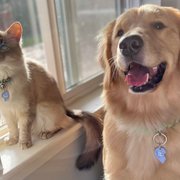 ---
---
I must have around 20 Kissamo tags by now and every one is a banger! Laurel's designs are innovative and adorable, and she has created several amazing custom tags for me. It's hard to resist getting more when she keeps coming up with cute designs!
Feedback
One of the designs, the original snowflake, was not quite as durable for adventure dogs and had arms snap off. The following winter collection had an upgraded snowflake that resolved the durability issues and is even more beautiful than before!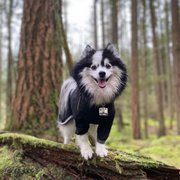 ---
What is Thingtesting?
Thingtesting is an unbiased place to research and review internet-born brands — because honest reviews help us all shop better. Learn more.
---
Kissamo has been our fave tag shop since we first heard about them. All the designs are super cute and you can tell Laurel takes great care into making the perfect little tag for your best friend. We have so many now that it is always so fun choosing a tag for them to sport in the morning.
Feedback
Nothing! Keep doing great!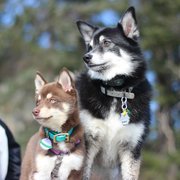 ---
Kissamo provides a large selection of uniquely chic designs which stand the test of time. They most definitely have a tag that screams your pets' names. But more likely, you'd want them all ;p Some of the designs I feel most drawn to - the Wolf and Moon tags, turned out to be also 100% environmental-friendly (made with recycled acrylic & reusable packaging). Very impressed with the brand's mission and quality. The details are excellent - how the designer constructs her ideas with colors, textures and shapes. Totally safe for even the most enthusiastic/mischievous pups (kittens?) to wear. You can see how much thought has been put into each and every tag.
Feedback
Let the special occasions tags / merch more available on the website. Love how you can stack up the mini tags even the regular tags. So much fun for daily wear dress up (with a tan leather collar) or down (on a reflective water-proof collar).
---
Shopping at Kissamo is always the best experience. Laurel is beyond amazing and kind and is always making the cutest tags ever !!! Quality is amazing and and all the kissamo accessories are so unique and special. Incredible woman owned business that makes the world brighter ❤️And our furry friends even cuter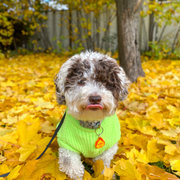 ---
We made our first Kissamo purchase 2.5 years ago when our dog was just a little puppy. The acrylic glitter gold crown was the most unique dog tag I had seen in all my research. I had made a minor error in my order specifications, so I reached out shortly after to make some edits. Laurel was very accommodating and happy to help. She stayed in touch with me throughout the process and informed me every step of the way. I was blown away by her approachability, customer service and attention to detail. Since that first transaction, our dog has amassed a collection of 20+ Kissamo tags, and there are constantly new and tempting designs! We love the creativity and attention to detail in all of the designs and have also been honoured to have Laurel bring a couple of special requests to life! Our dog gets so many compliments at the dog park for her different tags, and we tell everyone we can about Kissamo, because we just love the products, and their values *that much*! If you don't have any Kissamo tags, what are you waiting for?! Your dog will simply look radiant! PS. Kissamo tags also work well as a keychain, backpack charm or a custom necklace ;)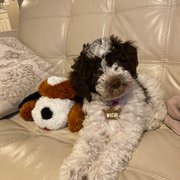 ---
I have been following along the kissamo journey from the start! Laurel is an amazing small business owner and puts so much love into all her creations. ❤️ I still have my original tags she made for my now passed precious Cat. Beautiful highen long lasting product! You will love it and so will your furbabies!
Feedback
Nothing !! All is great from the service to the packaging!
---
Love their products! They're cute, lightweight, and durable. I have probably 10 tags and one dog LOL. They make great gifts because you can choose the size of the tag and many ways to personalize it. The packaging is also cute so you don't even have to gift wrap it.
---
Love this! Loads of designs to choose from in really vibrant colors - I never realized you could buy fun pet tags until I saw this! I got a discount too from "joining the pack" which was great. Quality is good - I've used the same tag for well over a year and it still looks great, the engraving is still crystal clear. Would definitely buy again!
---