Keeko
Keeko sells dental care products to help provide clean teeth through reusable materials.
www.keekooralcare.com
Average rating from 2 users
At this point, I've only tried the floss and the tongue scraper but they are amazing! The tongue scraper is, well, a tongue scraper. There's not much to it. It's copper, it works very well, and that is that. However, the floss is amazing! I am super picky with my floss. Keeko has nailed the floss game. Each package comes with a considerable amount and it doesn't fluff when you're using it, unlike other vegan floss brands. I don't mind the coconut flavor, although sometimes it clashes with my lavender toothpaste. I love the shape of the container as it's easy to carry around. I always have two at home, one in my car, and one in my bag.
Feedback
Like I mentioned before, more floss flavors! And, maybe a carrying case for the tongue scraper.
---
I stocked up on their oil pulling mouthwash back when it had charcoal in it and I'm still working through what I have. As a dedicated oil puller I much prefer it to plain coconut oil but I am very happy to see that they now make the oil pulling mouthwash sans charcoal. While the charcoal version worked great it makes a huge mess that needs to be cleaned up after every use. Since the messy version works so well I can't wait to start using their new and improved version!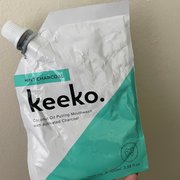 ---