Average rating from 10 users
+1 for inventiveness, but I didn't enjoy writing on the paper. It felt dusty and was slow to write on.
---
I LOVE these notebooks. As someone who always seems to spill coffee or food on my notebooks, these Karst notebooks are a lifesaver since they don't absorb liquid and you can wipe it off. They feel like heavy-weight paper, but smooth and velvety to the touch. The pages are actually cold to the touch which is an interesting sensory experience. It can be a little difficult to write on them as they seem to sort of grab the tip of the pen, but I have gotten used to it. Also, it's nearly impossible to rip the paper, so if you like to tear sections or pages out, these aren't a good choice.
---
---
Received a free product from Karst
I've been using the 2022 planner and love it - the texture of the paper is so smooth and beautiful. I love the sustainability aspect of the notebook <3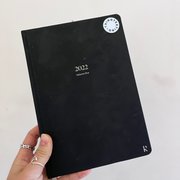 ---
What is Thingtesting?
Thingtesting is an unbiased place to research and review internet-born brands — because honest reviews help us all shop better. Learn more.
---
I loved the idea of stone based paper. I like to journal, both personal and bullet variety, and have felt uncomfortable about how much paper I go through on a regular basis. This seemed like the perfect solution. The notebooks are well made, have a good feel, and look great. It is true that the ink doesn't leak through from one side of the page to another, but ink reacts very differently on the stone paper than it does on pulp based pages. Most of my pens bled out and blurred a little, a problem when you are trying to do fine lines and charts like in a bullet journal. The best pen for this paper seemed to be a ballpoint, but I hate using those. I finished the notebook I bought and haven't purchased another. I do think the paper might be great for pencil and sketching, so I've considered getting another for art, but I wouldn't use one for a bullet journal again.
Feedback
I don't know if anything can be done about how the paper interacts with fountain and ink pens, but if it could be more crisp I would buy these all the time.
---
Very clean beautiful minimalism design. High quality. I love it as a creative and sustainable alternative to traditional paper. I used pencils on the stone paper it felt great.
---
Generally good products for paper lovers for whom the price is not very important. As for pencils and crayons, unfortunately, due to the fall, they break in half for which I receive one star. Calendar very well published, nice composition and well-chosen quotes and texts for the target group.
---
Really beautiful & minimal notebook, and I'm excited by the stone vs. tree based paper. A creative solution!
Feedback
The paper itself doesn't work well with felt tip pens (my preferred writing tool), which was a deal breaker for me. I also felt my notes faded more quickly than other notebooks and there was a bit of ink transfer between pages — but, this might just be a felt tip issue. 🤷‍♀️
---
Purchased the stone diary/weekly planner and loved the simplistic design. Sensory wise- the outer cover, smoothness and lightweight feel of the pages were satisfying. I rather enjoyed the thematic addition, it can be a great motivator for those into that kind of stuff. It bundles everything you want in a diary really; monthly snapshots to plan quickly, yearly overlooks (including the following year), space for daily/weekly info (an almost to-do list feel with it). In that regard would be perfect for those trying to achieve/fulfill a certain goal- given it's inclusion of motivation, tick circles, reflection and goal setting spaces. My preference for gel pens is not going to cut it as I did have some smudges, but my eco ballpoint pens and pencils were just fine. Scratches and pricks do show up noticeably on the cover, but the textured look isn't too much of a problem. Ideally would lower the price to around $30-39. Will likely repurchase next year and am excited to try their journals later on (like the option of choosing lined/blank, etc).
Feedback
I love my neutrals, but would like the option to buy the black/ebony planner on it's own. I was annoyed that a product with sustainability at its core came wrapped in plastic and bubble wrap (in an eco-friendly parcel bag), seems counterproductive, customer service stated they were in the midst of trialing an alternative. Would like to personalise bundle colour options for journals rather than buy 2 of the same colour. If possible make compatible with different pens.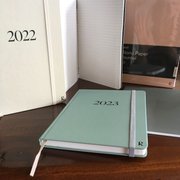 ---
Great product - I particularly love that this paper is waterproof - I use Karst notebooks for my recipes, so I can rest easy knowing that if I spill liquid or food on a page while cooking, it won't damage the page!
---
I have bought the Praxis set of 3 books and my feelings are mixed... Thanks to thinktesting I got a 15% discount (THANKS!!!), but still I have paid 85€ for three "planners" that could have been gathered in just one (there are a few pages that are identical amongst the books). The mindfulness book has exercise for every day, great! Unfortunately most of them are coloring pages! In the habit and gratitude books the same 3 questions are repeated for about 100 pages... Sure, the method says we need to set time in our day to pause and reflect, but so why not proposing flexible format like rings? The price should be justified by the quality of the books and the wood-free pages, but still the package arrived ripped (it is specified "handled with care"!!!) and in my opinion the covers quality is not so high. Colours are very nice and I bought the set not only for the esthetics but because of the scientific based help for mental health. As I have just received them, I cannot say more, but I will update this review in 3 months (otherwise it means it was really unuseful!).
Feedback
Merge the 3 books in only one and maybe having it on rings, no hard covers, so that it would be possible to add more pages as needed.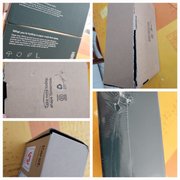 ---