Average rating from 6 users
100%Recommend to a friend
I have been going to Heyday for monthly facials for over a year. My aesthetician has taught me much about pampering my skin and guides me on purchases for any issues she sees. I have gotten so many compliments on my skin since I have been treating myself. My hairstylist says I am aging backward! I love that the space is unpretentious. I feel like I belong.
---
Invested in Heyday Skincare
Pre-pandemic I was getting facials at Heyday about every other month and I absolutely loved them. Especially the enhancements. One time there was a hemp honey add-on and it was great. I haven't been back since the pandemic but I would love to! I also buy all my face products from Heyday - they have an awesome selection and everything feels luxe without breaking the bank.
Feedback
Please add a location in Williamsburg, I will be your #1 customer.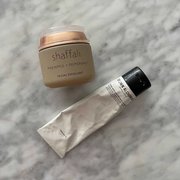 ---
---
Nice experience at the spa and love the fact that you can purchase products before or after. Selection is highly curated. However, we can hear a lot of noise from other cabins (i did 2 different locations and it was the same issue). Love their subscription model and the fact that you can use the money for purchasing product if you do not have time to get a spa service one month.
Feedback
Would love to get to choose one or 2 products to use during the spa treatment. Offer better music, more zen to relax the people, quieter area. Fix the noise & sounds between the cabins for a calmer experience
---
What is Thingtesting?
Thingtesting is an unbiased place to research and review internet-born brands — because honest reviews help us all shop better. Learn more.
---
I hope this doesn't sound hyperbolic, but heyday skincare changed my life. Ok, sorry that is dramatic but having clear skin has always been something I struggled with since high school. I went on Accutane at the beginning of college and it cleared up my skin a lot but I still have flare-ups from time to time. Right before the pandemic, I had another one due to vitamins I was taking and it really frustrated me. Luckily, I received a gift certificate for a facial for my birthday and it was the perfect gift. It was my first time receiving a facial and now, not my last. Not only was the entire experience wonderful, but the staff was also great and most importantly their products work! Within a week, my skin completely cleared up and I was so so happy. Since then, I have been religiously using several of the products they recommend and I can't wait to integrate their facials into my routine now that they are back to allowing customers in their locations. Seriously, I highly recommend them if you are looking for a jumpstart into skincare. I missed them so much during quarantine.
---
I really enjoyed my facial at Heyday - such a wonderful environment and really great for a gift. They are conveniently located across Manhattan and really enjoyed the staff.
Feedback
I wish it were a little more personalized - I didn't feel like it was the best qualify facial of my life but did enjoy the experience.
---
Works for Heyday Skincare
I absolutely LOVED my experience with Heyday. I'd had facials before, but had never had a visit with an esthetician that felt simultaneously warm and informative. My esthetician was kind, knowledgable, and explained her process and decisions made without pushing me toward any particular product. I left my facial with smooth, bright skin and more information than I'd ever had about how to care for my face. My great experience actually led me to accepting a role as a designer with the company!
---