Average rating from 3 users
My barber got me onto Firsthand and I absolutely love the texturizing clay. Gives my hair a natural styling without the signs of me having product in it. Holds up well all day long.
Feedback
Keep growing the product line! I love the product.
---
I use Firsthand's shampoo, conditioner, texturizing clay, and hand sanitizer. I have medium length hair and the texturing clay is the perfect way to give my hair some dimension and control. The shampoo is a bit unusual in that it doesn't foam very much. It's definitely a more gentle shampoo in that it doesn't strip away all the oils. When I use other shampoos, I think my hair looks and feels better the day after washing. This shampoo and conditioner gives me that look and feel the day I wash it. The hand sanitizer is a total sleeper for their product lineup. The packaging is beautiful. I often use a dash of sanitizer when my hands feel dry because it really does have a moisturizing effect. The smell is great too. Honestly, all their products smell amazing. The scents are hard to describe. Very natural and clean smelling without smelling perfume-y.
Feedback
I do wish the shampoo foamed a little more. Experts say foam doesn't make a difference for cleaning power, but I feel like I need to use more product when I don't have the benefit of foam spreading stuff around.
---
---
Absolutely love the clay pomade and the texturizing paste. I have pretty thick hair that's incredibly straight, but it's able to work in smoothly and give some texture and light hold. It feels incredibly natural in my hair, doesn't have an overpowering scent, and doesn't leave it greasy. Packaging is thoughtful too.
Feedback
I've tried a lot of various pomades, clays and pastes. I'd recommend their sample set to see what works best for you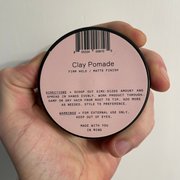 ---