Average rating from 7 users
100%Recommend to a friend
The most beautiful glassware, tableware and cutlery. My kitchen is fully Fable now!
---
I had been searching for a replacement set of dishes for months. I was having trouble finding anything that was at the intersection of high quality and unique without having to pay an exorbitant amount money. Fable hit all of these marks and even convinced by husband who said, "AlL wHiTe Is BoRiNg!!!" that all white can be chic and muted without feeling pedestrian.
Feedback
The only thing that needed improvement is the stickability of the cereal bowls. It appears they just released new bowls that stack, but I'm a little bummed that I missed that train. Overall, a fantastic product!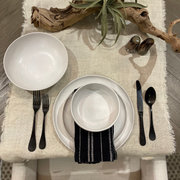 ---
---
The weight and colour of the pieces. Everything is really good quality and feels artisanal but still modern - not too crafty.
Feedback
I love the bowls but wish they stacked a little better. They take up a lot of room in the cupboard!
---
What is Thingtesting?
Thingtesting is an unbiased place to research and review internet-born brands — because honest reviews help us all shop better. Learn more.
---
Really beautiful, classic looking dishware.
---
I outfitted my kitchen with Fable plates and bowls. Their plat/bowl combo size, I can't remember what it's called, is perfect for most of my meals actually. With the gentle sloping sides and wide mouth, it's my go-to. I got the white color and it looks great. They're holding up nicely and I love serving dinner on them with friends. Well done!
---
Wonderful table wear, would like more.
---
Received a full set of the dinnerware in the navy blue for our wedding, and we absolutely love it. Feels both contemporary and classic, and somehow minimalist while also having a very distinct style. We are huge fans.
---