Average rating from 9 users
78%Recommend to a friend
Received a free product from Dormify
OMG I love Dormify, especially the travel duffle bag! this fits so much stuff, it is so great to use for moving into my dorm or going home for the holidays! definitely worth the money and use. what a great idea, they're even bigger than the Ikea ones.
---
I used Dormify way back when to design my first college dorm. It's honestly a GREAT way to pick out a theme/look, especially if you have a roommate and want to match. They even sell you inserts for comforters and pillow cases. Only three stars due to price and lack of quality on throw pillows
---
---
Ridiculous pricing. Go to IKEA, seriously. $50 for a 16' roll of contact paper? $40 throw pillows? $100 something weird comforter? What's possibly even worse it that it's all poor quality, mostly plastic garbage. The wire cart is jarringly poorly made. Fine if dirt cheap, but this is high end pricing. Seeing this product line in the Container Store makes me think the Container Store is circling the drain.
---
What is Thingtesting?
Thingtesting is an unbiased place to research and review internet-born brands — because honest reviews help us all shop better. Learn more.
---
The products I've gotten from here look cute, but they did not last though the end of the school year for me.
---
The website was easy to navigate and they had everything I needed for my dorm! My favorite thing I got was the 3 drawer cart that has charging on it, great for storing everything I needed in my room!
---
Became obsessed with Dormify after finding they have everything you could possibly need for a small space (i.e., my apartment). The cutest pillows, fun wall art and prints, great bedding for really good prices ... have also bought lots of things for my college-aged family members, who love all their dorm room stuff!
Feedback
The tool for seeing different bedding options together is really cool - I wish there was something similar for art prints and wall decor.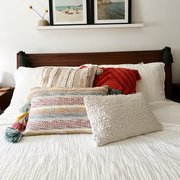 ---
They have a variety of styles and are always keeping up with current trends -there is something for everyone. And their storage options are literal life hacks!
---
loved everything I got for my college dorm room from dormify!!
---
I can find everything I possibly need for college at Dormify. It has a good mix of classic dorm essentials and trendy decor. The storage options are really innovative and creative. Since they carry a wide variety of wall decor, you can find all the art, neon signs, mirrors, and shelves that fit your taste!
---