Curious Elixirs
Curious Elixirs sells booze-free cocktails infused with adaptogens to help you unwind and feel good.
www.curiouselixirs.com
Average rating from 28 users
44%Recommend to a friend
Really innovative and interesting flavors, much better than your average just juice mocktails. Great packaging with a unique look and feel.
---
I have tried a lot of these flavors and I really only enjoyed one - the "painkiller" alternative. I think it's a great idea and wonderful branding, but they're very heavy on the adaptogen flavor which can be a real turn off.
---
---
I found ordering confusing, to start with. I didn't want to sign into a subscription, but wanted to try a variety. They don't have such an option, so I ended up with 4 bottles of curious #3. I found the drink slightly bitter, and not terribly appealing. It had no depth to make it appealing to return to. I determined I was going to have to mix it with something. It took me a while to figure out what their recommendations for dressing the drink up was, and it wasn't very creative, considering the appealing advertisements of their drinks they display. They don't have any mixing recommendations at all, as they believe them to be able to be drunk as is. Also, considering the cost of the drinks, with the volume you receive, I do not find these to be a worthwhile investment.
---
What is Thingtesting?
Thingtesting is an unbiased place to research and review internet-born brands — because honest reviews help us all shop better. Learn more.
---
love the idea of these better non alc drinks but flavors are awful. I didn't like any of the flavors from the variety pack and could barely finish it
---
At the time I purchased a case of Curious Elixirs, their website was atrocious. They have since revamped their website so that it is more modern and user friendly. I tried other times to order different flavors, but they were chronically out of a few of their offerings. I did not find the drinks to be as satisfying as the product descriptions led me to believe. That said, it is nice seeing them continue to stay alive and compete in an even busier nonalcoholic retail space.
---
I wrote the following to the company: "Hi Guys- I ordered your #4 thinking it would be as described: a blend of "green mandarin and… the fizz of Prosecco." The description copy is great (and my wife, a copywriter, agrees). The problem is that there is no mention of the most prominent flavor: ginger. An an Ex Portland, OR bartender I love me a dark and stormy on very rare occasions but certainly not 12 bottles. My wife and kids all agree that the ginger is overwhelming. I'm working on mindful drinking and wanted this to be a tool in the box but I'm afraid it's undrinkable (the ginger causes me heartburn). Is there anything you can do to remedy the situation? I'm happy to return the 9 unopened bottles." They responded with: " Regrettably, we are currently unable to facilitate returns or provide refunds solely based on personal taste preferences. Our Return Policy can be found on our FAQ page located on our website. For your convenience, I have attached a copy of our refund policy for your reference." Super super lame- you've lost one of many customers due to your inaccurate product description and poor return policy…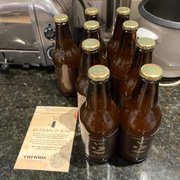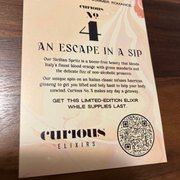 ---
I served curious at an event and people LOVED it. #2 and #4 were big hits and the profiles are delicious!
---
I was excited to try these but I was very disappointed! The flavors are definitely and acquired taste. I've been drinking Recess and tried these hoping they'd have great flavor, not so much
---
These are disgusting. Have no idea how anyone can drink these. Very disappointed. I was so excited! Ugh.
---
I've had a very positive experience with Curious Elixirs! I've been lucky enough to try a lot of their flavors, and I believe they have something for everyone. My personal favorite is #2. I love the spicy ginger flavor. But I've also had friends love other flavors that weren't as much my speed -- they really run the gamut. As someone who has found a lot of mental and physical health in not drinking as much, I'm really glad these exist.
---