Cerena
5 • 2 Reviews
Cerena offers premium, full-spectrum CBD to help you transition from one physical or mental state to another.
cerena.co
Average rating from 2 users
I was pretty skeptical about CBD in general, and I can't tell if it's placebo or not, but I have trouble sleeping and I've used the "sleep" product several nights, and each night I've used it my Fitbit has said my sleep quality for that night is much better than normal, and I wake up feeling rested.
Feedback
Not sure if this is controllable, but I feel like I've had weird dreams every time I've taken it. It also doesn't taste the greatest, but that's not too big of a deal.
---
This stuff is the real deal. Chris, one of the founders, is obsessive about product quality and hemp. The quality of the cbd is fantastic, the packaging and branding are elegant, and you feel all the love they put into it.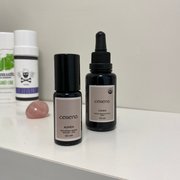 ---