Average rating from 4 users
75%Recommend to a friend
tried the mango, ube - all so good
---
Received a free product from Bubbies Mochi
I thought the bubbies mochi ice cream tasted weird it was sweet both the outside of the mochi and inside the ice cream. That threw me off because when I think of passion fruit flavor it is a little tart which I didn't get from this bubby's flavor a little disappointed. I tried to eat it as dessert which didn't really work for me as I was expecting a little sourness/tartness to be present so for that it didn't work. The best part of this product was the cute little mochi balls and the vibrantness of the orange mochi dough looked like something from a cartoon world. :) Lastly the presentation of the bubbie's packaging was immaculate and sharp. But no I will not be buying this product for the reasons listed above I wouldn't recommend this product for anyone to try.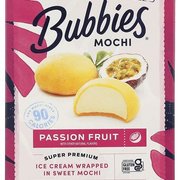 ---
---
So good! I love the passion fruit flavor. Its not too sweet and such a good flavor.
---
What is Thingtesting?
Thingtesting is an unbiased place to research and review internet-born brands — because honest reviews help us all shop better. Learn more.
---
favorite flavors are vanilla and green tea!
---