Brave Robot Ice Cream
4 • 7 Reviews
Brave Robot Ice Cream makes tasty ice cream out of animal-free dairy products designed to be better for the planet.
braverobot.co
Average rating from 7 users
71%Recommend to a friend
Brave Robot Ice Cream Reviews
l have had 6 different flavors and they are all amazing! Big chunks of chocolate and peanut butter, pecans and hazelnuts etc. Whatever the particular flavor you have is, they load it up and the ice cream is excellent. The very best ice cream l have ever had, no joke. And cruelty free!
---
I love it! It is the creamiest ice cream I have ever had that doesn't use milk from a cow and the packaging is super cute too.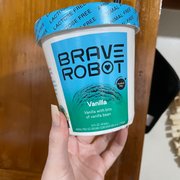 ---
---
Very impressed by this ice cream! I've tried 5 different flavors and enjoyed them all. It's very creamy for being lactose free and the ingredients tasted high quality.
---
What is Thingtesting?
Thingtesting is an unbiased place to research and review internet-born brands — because honest reviews help us all shop better. Learn more.
---
This is great alternative to dairy for a frozen dessert. It does lack the typical creaminess of dairy icecream but the flavors are fantastic.
---
I love the hazelnut flavor! The icecream has a real dairy mouth feel & flavor. Some of their recipes are on the "meh" side such as the PB 'N Fudge. The packaging stands out from other plant based milk ice creams.
---
Very nice packaging the ice cream is good but not wow!
Feedback
There was a watery after taste but overall the flavour was good. I do love the packaging.
---
I tried the Raspberry White Truffle flavor and was very put off by chunks of what tasted like solidified Crisco in the ice cream. In my freezer is a container of Vanilla 'N Cookies that I have no desire to try after my experience with the other flavor.
Feedback
The consistency. Eliminate the chunks that taste like solidified Crisco. If those are the truffles, they lend absolutely nothing to the experience.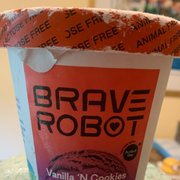 ---