Each week, we check in with a different member of Thingtesting's community to ask what brands they've spotted, what they're testing, and take a peek into their recent reviews.
This week's feature is Verena von Pfetten, she's the cofounder of Gossamer, a brand that started as a lifestyle publication about cannabis and later added its own collection of CBD products. Read on to discover the brands she's recently spotted and everything else in her current rotation.
Know a tastemaker who loves to try new things? Submit their name here.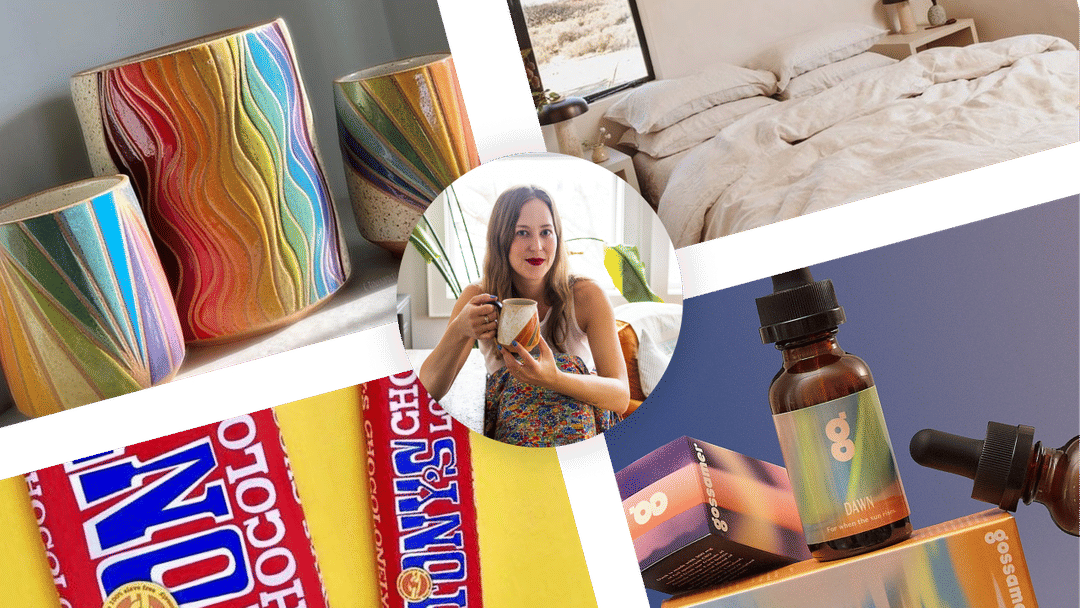 Hi Verena, please introduce yourself.
Hello! I'm Verena von Pfetten, and I'm the cofounder of Gossamer, a lifestyle brand and publication for people who also smoke weed. I'm also Canadian, a Gemini, and live in Red Hook, Brooklyn. If we meet in real life, I'll probably ask you what you ate for dinner last night.
What was the opportunity you saw in launching Gossamer first as a physical publication? How has doing so helped normalize the conversation around cannabis and your later product launches?
People smoke weed—or take CBD—for a lot of different reasons: to relax, sleep better, to go on a hike, to laugh, to sit on their couch, eat takeout, and watch a movie. But the one thing they all have in common is that cannabis gives you a better experience of those things. So it was important to us, in launching a publication for people who also smoke weed, that we give them the best possible experience reading it. Even four years ago, when we released our first issue of Gossamer, the last thing anyone needed was more screen time. It felt important and special to make Gossamer a beautiful and physical object—something immersive and that really lends itself to the experience of being high and looking at something from a different perspective.
Also, cannabis was then, and still is now, extremely stigmatized and deeply politicized. Making the magazine allowed us to Trojan horse a lot of the issues that are core to our mission—social equity, decriminalization, reparations—into a beautiful "lifestyle" publication. Weed is fun! We want people to enjoy their experience, and get excited about a sleek, design-forward bong or new artisanal edibles. But we also want them to know how much power they have right now to make a difference in terms of who gets to participate in this industry and who gets to benefit. Building our community through those stories, and finding that they really resonated with people, has made launching our own products and expanding our brand all the more special.
What are some brands you've recently spotted?
Bed Threads. I'm a real stickler for linen sheets—and extremely picky about them. Over the years, I've tried sets from more than five different brands (which doesn't sound like a lot but think about how often you buy sheets—not that often!) and Bed Threads are absolutely my favorite. The color options are amazing, as is the ability to easily customize your own set. They arrive super crisp and almost a little bit scratchy, but they soften up so nicely as you use and wash them. Plus the heaviness just means they last forever. I can't get enough of these sheets!
Christine Tenenholtz Ceramics. Truly some of the most beautiful handmade ceramics I've ever seen. Apologies in advance for this recommendation, because actually getting your hands on a piece is hard. A one-woman show out of Colorado, Christine Tenenholtz announces new releases on Instagram and via her newsletter, and when I say they go fast, I really, really mean it. Set up an account in advance, make sure your payment info is ready to go, and prepare yourself for disappointment. But just keep trying! I now take my coffee every morning out of the same (only) rainbow and gold-accented mug of hers I own, and it's a highlight of my day.
Strategy Skin. My sister introduced me to this new skincare line by a Vancouver, Canada-based esthetician. I've never had great luck with retinols, but this one is incredible.
What's a brand you recently tested?
Any exciting summer plans?
We have two upcoming launches that I'm extremely excited about. One limited-edition collaboration launching next month (hint: it's in the apparel space) and a new Gossamer product toward the end of August that is basically a guaranteed good time. On a personal note, I am absolutely nuts for summer. Love the heat, love the sun, even love the humidity. I try to spend as much time as humanly possible on or near a beach or body of water. I'm heading to Wellfleet, on Cape Cod, for a week at the end of July, where I will fully unplug (we rent a little cottage that was grandfathered into the National Seashore, so there's no cell service), eat seafood and shellfish for every meal, and feverishly check the Sharktivity app for recent Great White sightings.
What else is in your current rotation?
I grew up playing tennis, but gave it up in high school. I found my way back to it about five years ago, and would play it every day if I could. (One thing Los Angeles absolutely has over New York is easily accessible tennis courts.) And while I know tennis is definitely having a moment right, I still don't feel like anyone's actually nailed the giant gaping hole that is cute, vintage-inspired gear that's also high-performance and good to play in. Someone please take my money!
Who are some spotters in your community who you look to for new things?
My friend and former Lucky editor colleague, Jayna Maleri, who always alerts me to the cutest, most idiosyncratic knick knacks and perfectly worn-in vintage tees. Laurel Pantin introduced me to Wind Witch's absolutely perfect waxed canvas fanny pack. Gossamer's contributing fashion editor, Rajni Jacques, has an impeccable eye for vintage denim and upcoming fashion brands. I read my friend Haley Nahman's newsletter, Maybe Baby, religiously. And if I'm ever in a gifting pinch, I text Erica Cerulo and Claire Mazur, who have been in the discovery game for more than a decade now.
Spotted on Verena's dressing table...