Each week, we check in with a different member of Thingtesting's community to ask what brands they've spotted, what they're testing, and take a peek into their recent reviews.
This week's feature is Sydney Gore, she's the Digital Design Editor at Architectural Digest, a freelance writer, and consultant. Read on to discover the brands she's recently spotted and everything else in her current rotation.
Know a tastemaker who loves to try new things? Submit their name here.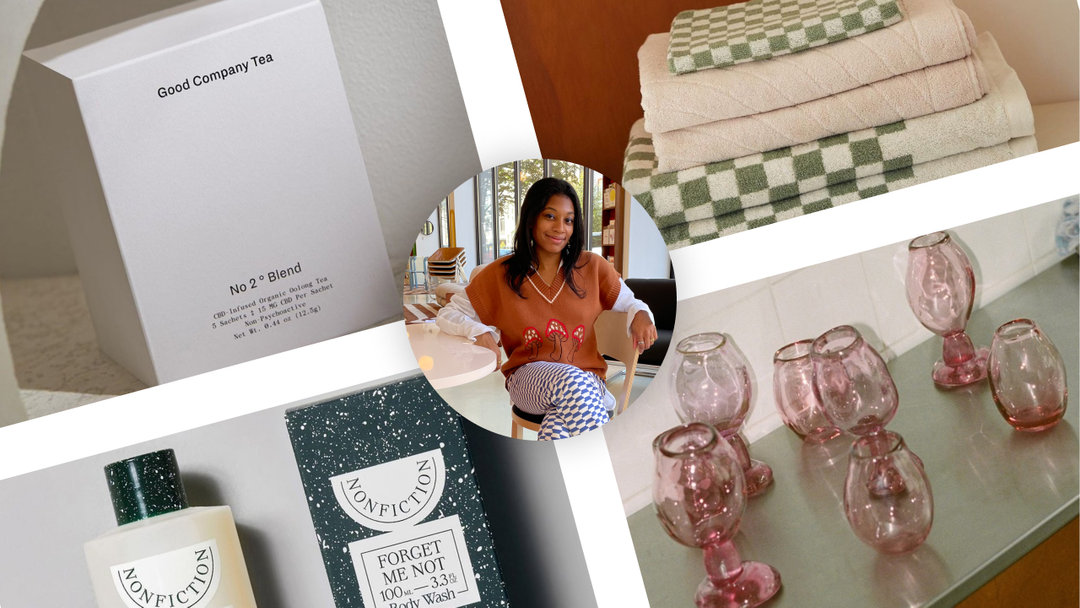 Hi Sydney, please introduce yourself.
My name is Sydney and I'm a writer, editor, journalist, and consultant based in NYC. I currently work at Architectural Digest as the Digital Design Editor and have been published at The New York Times, New York Magazine, Vogue, Teen Vogue, W Magazine, Broccoli, Gossamer, and a bunch of other places. Fun fact: I'm a Projector in human design with an INFJ personality type.
What's a design trend you have your eye on?
Lately I've been really intrigued by the reemergence of glass blocks as spotted at Susan Alexandra's NYC flagship store. I'm an Earth sign so I love that the color brown is having the moment of appreciation that it deserves. In general, it's been exciting to see more artists and designers expand into the homeware category–it's one of the most accessible markets for consumer goods that can truly enhance the quality of someone's life.
Any design trends you're ready to retire?
Bouclé–I'm begging everyone to please give it a rest already, we've all had enough! I don't think it needs to be said, but it seems like the tiled cube craze that happened during the early days of quarantine has finally faded into the background. I'd also appreciate it if everyone kindly backed off the vintage IKEA market so I can snag the items on my wish list for a reasonable price!
What are some brand you've recently spotted?
NONFICTION. A narrative-driven bodycare brand without subtle packaging that speaks volumes.
RiRa. Life imitates art with these contemporary home objects that make the ultimate statement in any space.
Deiji Studios. A luxurious linen bedding experience from head to toe.
Baina. Mindfully made towels with experimental textures and patterns to refine your most sacred bathing rituals.
Staff. Putting the fun back in functional products for your everyday life because basics don't have to be boring!
Good Company Tea. Premium cannabis-infused teas that come highly recommended. Drink for a good time while you unwind. (End note: The new THC blend is legit, but if you want to keep it CBD then go with the oolong.)
JIU JIE. The purebred pillow pet you didn't know you needed. I don't make the rules, but JIU JIE is the it-girl of knot cushions.
What are some brands you recently tested?
What else is in your current rotation?
I'm not a tablescape artist by any means, but I seem to have opened a portal into the world of dining and entertaining so I've been redesigning my selection of serverware. My mom is an OG MacKenzie-Childs collector and finally succeeded at converting me while I was staying with her and my dad during the early stage of quarantine. I became obsessed with the discontinued Wittika Pickles collection which I would later find on consignment at The RealReal–my mom gifted me a set last Christmas so now I'll never need to buy plates again!
Long before the wiggle trend took over our feeds, I caught myself doing double takes every time I saw Izabel Lam's flatware online. As fate would have it, I wasn't ready to buy a set until after it was completely sold out, so when Casa Shop eventually restocked the silver I didn't hesitate to pull the trigger. I've wanted the pink Liquidish bowl since RiRa launched in 2020 and finally snagged it on sale last month. My latest addition to the table is Gaetano Pesce's resin coasters, they're too cute! Lastly, I still get emotional from the sight of my pair of vintage Mies Van Der Rohe MR10 chairs that I got for a steal from Carefully Curated right after I was hired at AD.
Describe your perfect day.
Wearing my favorite Sandy Liang dress to a picnic in Central Park and feasting on the perfect charcuterie board with my best buds, followed by a round of mocktails at Bemelmans Bar.
Who are some spotters in your community that you look to for new things?
I'm so grateful to be surrounded by such a supportive circle that keeps me hip! I wouldn't have started further exploring interior design if it weren't for the encouragement of my dear friend Lauren Lynch so she definitely deserves a shoutout. I met the artist Ani Bradberry during our freshman year at American University and she continues to introduce me to new dimensions within this scene. Cedar Pasori and Amy Auscherman are my design godmothers, they have taught me so much and I would be lost without them. Hunter Harris keeps me humble, if you're not subscribed to the Hung Up newsletter please seek help.
I trust Michelle Siman with my life when it comes to wellness recommendations, she has never ever led me astray. I check in with Tara Thomas whenever I need a credible opinion on cookware because I'm not trying to be a simp that falls for the charm of DTCs leaning into millennial aesthetics! Fariha Róisín shares my deep appreciation for beautiful and grounding indulgences, I feel so seen by her. Asia Grant and I communicate on a different frequency level, I'm a huge fan of her brand Redoux. Last year, I became friends with Janie Korn after interviewing her for a Clever story and she's one of my favorite people to be around, she's got such good juju.
Spotted on Sydney's vintage chrome étagère...
Ludwig Bemelmans La Bonne Table, MacKenzie-Childs Courtley Check kettle, Alessi Pink 100 Values Large Salt & Pepper Grinder, Liv & Dom Ceres candlestick, vintage Feltman Lager teapot, vintage Vetri Murano lamp, Edie Parker Flower glass fruit pipe, PrettyShittyCakes custom cake, MacKenzie-Childs Courtly Check cake stand, vintage Michael Harvey ceramic teapot, MacKenzie-Childs candlestick, Izabel Lam Sphere flatware set in silver