Each week, we check in with a different member of Thingtesting's community to ask what brands they've spotted, what they're testing, and take a peek into their recent reviews.
This week's feature is Roxana Saidi, she's an Iranian-American (with a love for pistachios) and the founder of Táche. Read on to discover the brand's she's recently spotted and everything else in her current rotation.
Know a tastemaker who loves to try new things? Submit their name here.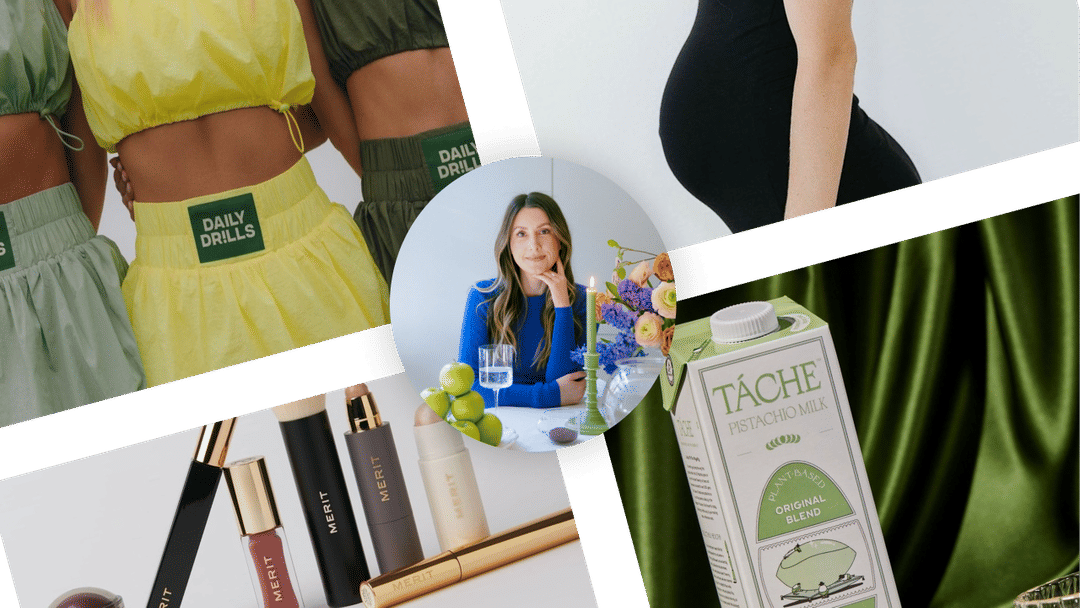 Hi Roxana, please introduce yourself.
​​I'm Roxana Saidi, Founder and CEO of Táche - the first true pistachio milk in the U.S. Inspired by my Iranian roots and drought-stricken home state of California, I founded Táche to educate and provide consumers with a more healthy, socially impactful, and *delicious* milk option​ that fills an enormous white space in the non-dairy milk market.
There's a lot of non-dairy milks on the market, but you were first to use pistachios. How did you come to launch Táche?
As a first-generation Iranian-American, pistachios have always been meaningful to me. With rich cultural significance in the Middle East, where pistachios have been grown for thousands of years, the crunchy green nut is also harvested in California, where I was born. ​In 2015, I began making my own pistachio milk at home as an alternative to almond milk, which was depleting California's precious water resources. After discovering that pistachio trees requires 75% less water, we sourced the most flavorful pistachios in the world with a desire to create a more sustainable, delicious alt-milk. What started as a passion project quickly began to fill an enormous white space in the market as we pioneered an entirely new category in the increasingly popular non-dairy milk space.
What are some brands you've recently spotted?
De La Calle is a modern spin on a traditional, fermented Mexican beverage - a tangy, sweet-tart drink made from pineapple. The brand's mission is all about discovering authentic flavors of Mexico while encouraging people to gather and celebrate, which I love!
Daily Drills gives nostalgic summer vibes all around in its clothing offerings - all the sets are far beyond cute with the chicest colors and the comfiest I've come across for a workout or even just casual attire.
MERIT. I'm always interested in learning more clean, vegan and cruelty-free makeup brands, and was ecstatic when I learned about Merity Beauty. It offers a minimalistic approach to face, eye and lip products in a holistic and safe way.
Rachel Saunders Ceramics. Each piece of work from Rachel Saunders is exceptionally impressive as she showcases how natural materials can be shaped into a variety of ceramics; stemming from bowls and cups to incense holders, posters, candles, jewelry and more. Her self-taught technique is inspiring as she hand makes each item with simplicity, functionality, sustainability, playfulness, and connection.
Storq. I've been searching for the most comfortability maternity wear and absolutely love Storq for WFH days. It's some of the softest pregnancy items I've some across - the fabric is incredibly comfortable and all the items look and feel great for work or relaxing!
What's a brand that you recently tested?
What else is in your current rotation?
As I'm currently eight months pregnant with my first child, most of my free time is spent preparing for our baby in any way possible! Each morning, my husband and I will take a walk along the water and through the parks in Dumbo, Brooklyn, where we live. Spending quality time with family and friends right now has been a priority as my husband and I get ready to enter a new chapter of our lives. Also, hitting some of our go-to favorite restaurants like Misi, Four Horsemen, Sofreh, and Via Carota one last time since we wont be doing much eating out soon!
Who are some spotters in your community who you look to for new things?
Laila Gohar, Gohar World, Andrea, Snaxshot, Nell Diamond, Hillhouse, Hannah Bronfram, HB Fit, Nilou Motamed, fellow Iranian-American editor and TV personality and Sahra Nguyen, Nguyen Coffee Supply.
Spotted in Roxana's fridge...
Topo Chico has always been a staple in our fridge along with Dona, Other Half, Ghia, and of course all Táche varieties. We're a big beverage family and love trying out the latest and buzziest brands!