Average rating from 2 users
Rachel Saunders Ceramics Reviews
Ethereal, earthly, intentional, and functional. I love Rachel Saunders and I love Rachel Saunders Ceramics. She is a true artist. The voice and brand she has created is a testament to her creativity and ethos. Her gentle and spiritual nature really shines through in her products. I truly love each piece I own. She makes functional works of art! She is transitioning from making ceramics full time in the coming months so get your hands on whatever you can! I've attached a picture of her "Ettore Mug" in blue.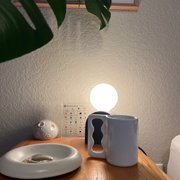 ---
Friends with Rachel Saunders Ceramics
Each piece of work from Rachel Saunders is exceptionally impressive as she showcases how natural materials can be shaped into a variety of ceramics; stemming from bowls and cups to incense holders, posters, candles, jewelry and more. Her self-taught technique is inspiring as she hand makes each item with simplicity, functionality, sustainability, playfulness, and connection. We absolutely love her smoothie cups, especially in the color Pistache!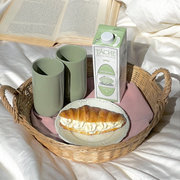 ---