What's the difference between all these refillable cleaning products?
Tablet, powder and concentrated cleaning products that you can whip up at home are flooding the market. Are they all that different?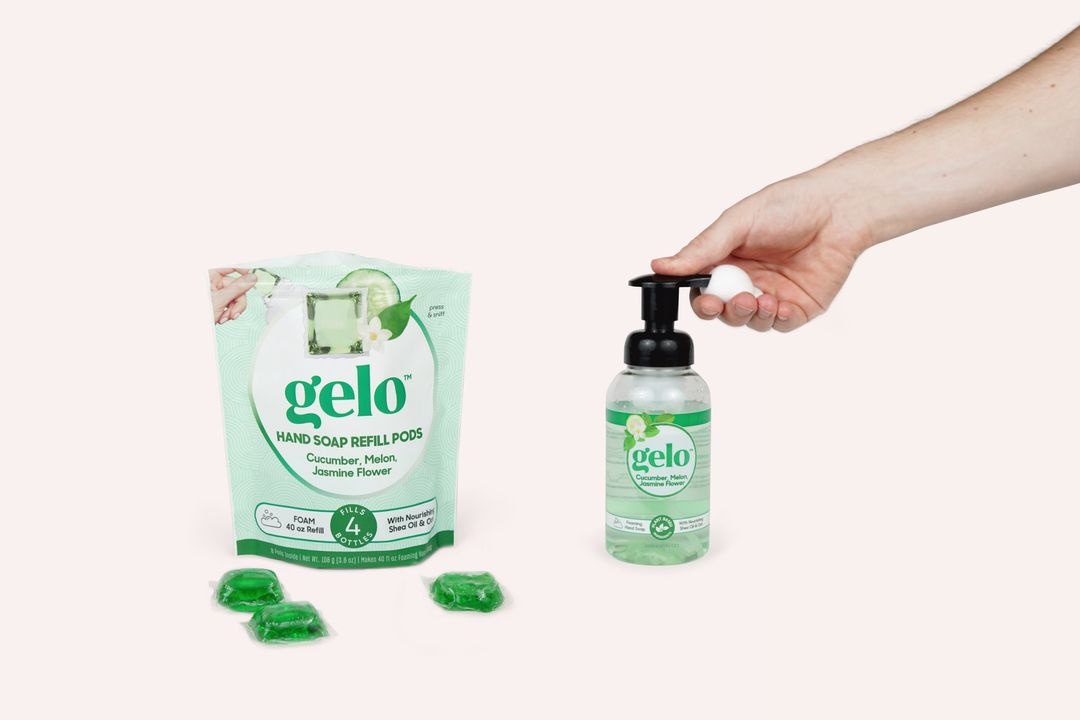 When Blueland made its debut on Shark Tank in October 2019, just six months after it launched, the idea of refillable cleaning products was pretty novel.
The company's founders, Sarah Paiji Yoo and Syed Naqvi, proposed that instead of simply going out to buy a brand new bottle of whatever cleaning product they needed, they could buy tablets instead, and mix up their own cleaning solutions in bottles they had at home. At scale, they said, this could eliminate the need for as many as 100 billion single-use plastic spray bottles in the U.S.
"We are all aware of the problem of plastics," said guest Shark Daniel Lubetzky, the founder of snack brand Kind, on the show. "What's your unique selling proposition or differentiation?"
This question is where the founders stumbled. They struggled to give a clear answer, and instead turned the conversation to sales figures and the big-name venture capitalists that had already backed them.
In the less than two years since that TV moment, the question of differentiation has become even more difficult to answer. There is now a sea of brands in the space, each with their own riff on the refillable cleaning concept. In the Thingtesting directory, we have counted at least 17 brands that send their customers a starter kit of refillable bottles, while the cleaning powders, tablets or concentrates needed to fill them up are delivered via subscription (if you know of any more, tell us).
Why are there so many? And is this an extreme example of the "blanding" phenomenon – where companies launch with suspiciously similar looks, feels and even concepts – or are we witnessing a wider and more permanent shift in the way people want cleaning products to be sold to them, driven by environmental concerns?
We put these questions to the brands. Here is a selection of their responses.
There are 17 brands in the Thingtesting directory selling refillable cleaning sprays. Does that number surprise you?
Paiji Yoo, Blueland: When we were first getting started, there was nothing out in the market like Blueland, and we had to formulate these products from scratch and convince investors and consumers to take a chance on this brand new behavior. Now, it's a mainstream consumer trend in the U.S.
Ryan McSorley, Neat: It is a lot, which we think is amazing. The more of us concentrating our products and eliminating single-use plastic, the better. It isn't really surprising. Consumers want sustainable solutions and entrepreneurs and investors alike are starting to see the potential of businesses with sustainability and ethics at their core. I guess the real question is, which of us will still be here in five years?
Luana Bumachar, Grove Collaborative: The number is not surprising at all. The concept of using concentrates and cutting out water from the supply chain is really intuitive. It is a very easy switch to make, and has such an obvious and immediate impact in terms of reducing packaging and plastic waste, shipping cost, and so on.
Dee Bulsara Ocean Saver: No, this doesn't surprise us. We firmly believe this is a direction the market is going in. Drinking from single-use plastic bottles has become frowned upon, and there is no excuse to clean with single-use plastic bottles either.
Michael Bartenstein, Aer: More to come, I would say. Overall it's a good sign though, because the refill system makes perfect sense, whereas the current system doesn't.
Mahira Kalim, Spruce: For any consumer product where there is significant demand, there are going to be multiple players trying to tap into the momentum. The cleaning category is just in the early days of consumers becoming aware of their plastic footprint and how the cleaning chemicals affect them.
What are the main challenges when it comes to launching a product in a crowded market?
Paiji Yoo, Blueland: We enjoyed the benefits of being a first mover and only player in the space for about a year before we started to see others launching their spin on our offering. Since then, the main challenge has been ensuring that we protect the reputation of our refill product model. We've seen many products in the space that lack effective formulas and are not supported by third-party efficacy testing results. Because tablet refills is a new format, consumers can understandably be skeptical that the products actually work, making it all the more unfortunate that there are less efficacious or less eco-friendly formulations hitting the market, hurting the overall reputation of this category.
Bumachar, Grove Collaborative: The space for clean surface cleaners and soaps is actually not that crowded – it still has a lot of opportunity for growth, and for multiple brands to enter the market with their new offerings. And as they say, a rising tide lifts all boats.
Ryan Lupberger, Clean Cult: The [three] main challenges are combating others who are greenwashing, eliminating false preconceived notions that green cleaning is less effective than traditional cleaners, and making the transition to sustainable cleaning easy for the masses versus a huge lifestyle change.
Bulsara, Ocean Saver: We don't think it's a crowded category – we are the only plastic-free cleaning refill brand in [British supermarket] Tesco. In fact, consumers are still not familiar with refill products in this category and there is a lot of work to do to break consumer habits, and stop people cleaning with single-use plastic.
Bartenstein, Aer: Differentiation, clearly. While our task is to communicate effectively how our products are different to the industry incumbents, we at the same time have to point out clearly what makes Aer unique compared to VC-funded startups that follow the classic "let's make the same effervescent tablet as..." approach.
Cydni Tetro, Brandless: As more companies introduce similar products into the market, the main challenge is showcasing the "why." Why is your product superior? Why should a consumer select your product over a competitor? Once you know the answer to these questions, your marketing and PR strategy must amplify these messages.
What makes your product unique – really?
David Löwe, Everdrop: What's special about Everdrop is that our refills are completely plastic-free and packaged with only paper. Cleaning tabs are only one of our sustainable household products; we also have our laundry detergent, [which] are microplastic-free and address water hardness by tailoring the detergent to the water in the customers' home area.
Paiji Yoo, Blueland: Blueland is an innovation company with over 40 patents and patents pending, and [we're] proud to have truly created the category of refillable cleaning products.
Nick Torday, Bower Collective: We provide sustainable reuse and refill across the entire home, so not just surface sprays but washing up, laundry, and toilet cleaner, as well as with our body wash range.
McSorley, Neat: With a concentrated liquid formula, we are able to deliver on efficacy and convenience. With tablets you need warm water and you have to wait for the tablets to dissolve, and the spray nozzle can easily get blocked. For us the product has to be as good, if not better, than what exists if we are going to transform the category.
Lupberger, Clean Cult: [We use] 100% plant-based ingredients. Other brands, particularly those using tablet-based products, are petroleum-based. Unlike other refill cleaning sprays that are refilled with plastic [bottles], Cleancult is also the only company that packages its all-purpose cleaning spray [refills] in paper-based cartons that are resealable.
Tetro, Brandless: Brandless was one of the first companies to launch and introduce concentrated cleaners and refillable bottles for household use back in 2017. Brandless is [also] different because we offer a 100-day promise on all of our products, so if the customer is dissatisfied for any reason at all, they can contact us, and we will figure out a solution.
Thingtesting is a database of internet-born brands. We're building the un-sponsored corner of the internet where consumers can come together to talk honestly about new things. Read more about Thingtesting.
Create a free account so you can make your own lists, whether that's because you love them or because you want to try them.
Feedback? Yes, please.