Don't call them TV dinners: How brands are reinventing freezer meals
Brands are selling high quality pre-prepared meals that you can stick in your fridge or freezer. They say it's a healthier and less wasteful way to treat yourself.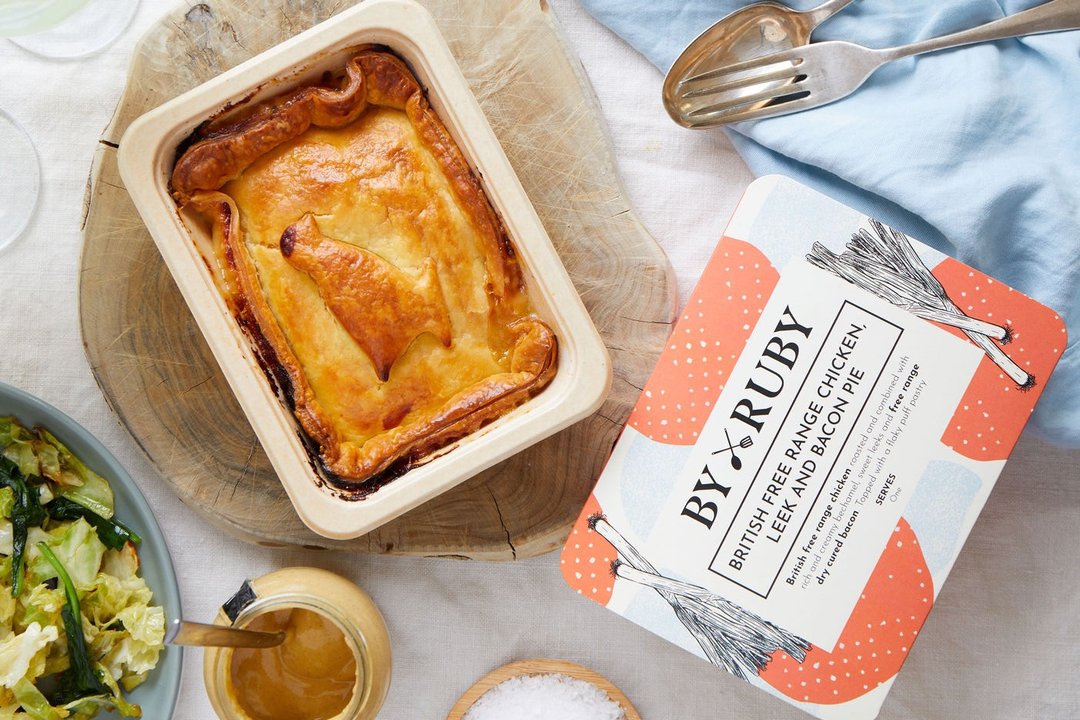 Frozen, ready-prepared meals may not have the best reputation — but a number of brands are trying to prove that they can not only be convenient, but healthy too.
In the U.K., the likes of ByRuby and Allplants are all fighting for shoppers' freezer space, with the latter raisinf $52 million last October to scale its better-for-you vegan ready meal offering. In the U.S., a number of brands are carving out their own niches in the frozen meal market. Adùn, based in Texas, sells a range of frozen meals that showcase dishes from the African continent, while In Good Company works with chefs to create limited-edition frozen meals that are sold in metal lunch boxes. Even brands that weren't focused on the frozen aisle to begin with are launching products in the category — chickpea pasta brand Banza now makes frozen pizzas, while Fly By Jing has expanded from room temperature chili crisp to frozen dumplings.
Changing perceptions
People have long associated frozen and pre-prepared meals with convenience — but not health. In fact, such meals tend to be criticized for being overly processed or packed with salt.
These brands want us to think differently, and are shining a spotlight on the benefits of selling food in frozen form, rather than at ambient or fridge temperatures. Because its meals are frozen, ByRuby's founders say there is no need to add preservatives, while the much-longer shelf life of the meals means they are less likely to end up being chucked away by supermarkets or shoppers.
Frozen food sales are increasing as consumers start to understand how the freezer can help to unlock healthy eating goals. According to Mosaic, a frozen vegetarian meals brand which recently opened a store in New York, 50% of Americans want to eat less meat, but less than 10% are actually vegan or vegetarian. Buying and using up fresh produce before it goes bad is a common challenge.
Change is happening on the freezer aisles, but to be really successful, brands must convince customers that it's worth spending more than they are used to on a frozen ready meal. A box of 12 meals from Mosaic costs in excess of $120, while Allplant charges £39 ($45) for its starter bundle which contains six meals for one, plus a few extras. "People don't flinch at paying £12 for a Domino's pizza," says ByRuby's cofounder Milly Bagot. "Whereas some people say to me 'that's expensive, £5.95 for a lasagne'."
ByRuby has been using retail partnerships as a way to help customers try its meals without having to commit to buying them in bulk online (to qualify for free shipping, ByRuby asks customers to spend £50 or more).
"It's quite a punt to order eight dishes," says Bagot. "And that's where retail comes in — people can try it out, and the data we're seeing [shows] that people are buying one or two and then ordering online next time." ByRuby now generates 70% of sales through brick-and-mortar retail.
Freezer meals in a time of inflation
While the fancy freezer meal brands do need to work to convince customers that their dishes are worth the money, it's possible rising inflation could actually help, rather than hinder, this progress.
Ruby Bell, ByRuby's cofounder and head chef, says the brand's stockists have reported customers opting for more expensive items as they look for a weekend treat that doesn't quite reach the same expense as going to a restaurant. Bell says that at the regional supermarket chain Booths, for example, customers are now putting nicer wines in their baskets. This is good news for the sellers of posh ready meals.
In February 2021, the American Frozen Food Institute reported that frozen food sales were up 21% in 2020. In the U.K., sales of frozen foods were up 10% month-on-month in September. "There's a huge growth in the freezer aisle," says Bagot, adding that in 2021, sales of frozen foods were up 5%. "That's much higher numbers versus other sections of the supermarket."