The ball's in your court: These backyard game brands help you play at home
Pickleball, yard games, and racket sports boomed as people sought ways to socialize outdoors during the pandemic. What makes these games a hit?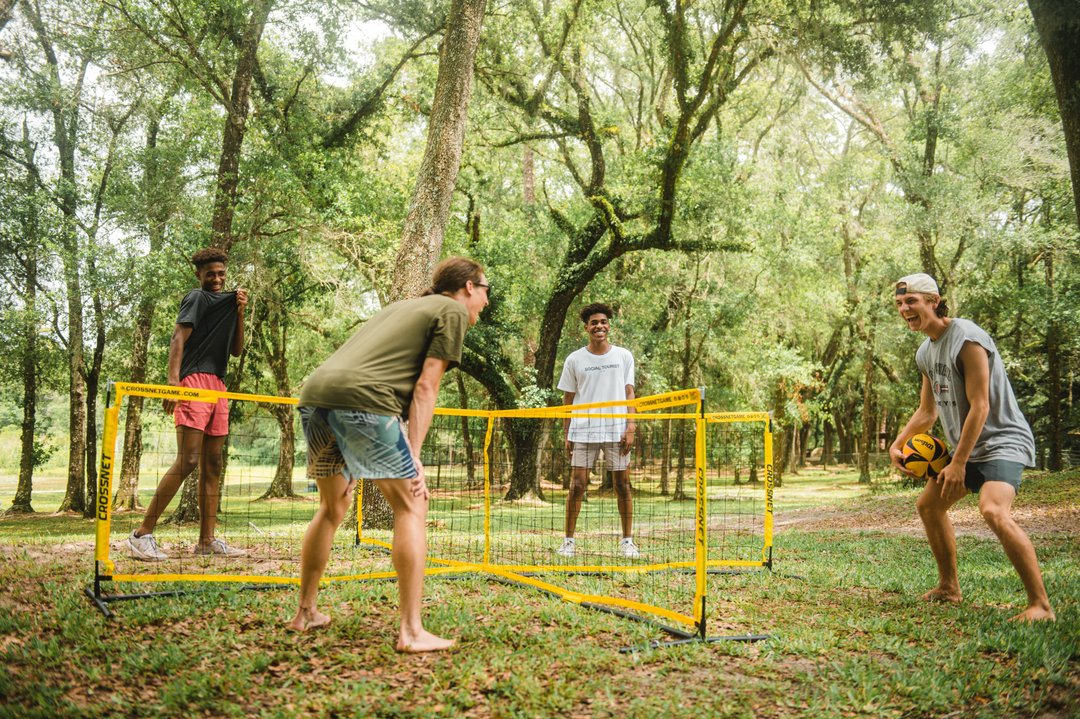 As we enter the peak summer months, business is roaring for yard games, says Chris Meade, the cofounder of Crossnet, which makes four-way volleyball nets.
To date, the company has sold over 100,000 of its nets, which come in different configurations for use in pools or for playing a soccer-style version of the game. The company claims to be among the world's fastest-growing backyard games brands, and its popularity is growing so fast that, Meade says, a shipment of 2,500 units for its European launch earlier this year sold out "before the container even landed."
Sales of easy-to-play outdoor games have boomed since the pandemic, as people sought ways to continue socializing while maintaining a safe distance. In March 2020, Crossnet says it saw sales jump 500%, while games like cornhole and spikeball have also seen increased attention. In the U.K., sales of garden croquet sets rose 600% year-on-year in June 2020. And then there has been the inescapable rise of pickleball — a game that combines elements of tennis, badminton and ping pong, and was America's fastest-growing sport between 2019 and 2021. It's estimated that 4.8 million Americans are now playing pickleball, up 39.3% over the past two years.
Even as pandemic restrictions have eased, these new hobbies people have picked up seem to be sticking around. Health club chain Life Time says it will build up to 700 new pickleball courts across the U.S. this year, at a cost of up to $75 million. New facilities to play bocce — an ancient ball-throwing game — are also opening. EPCO Manufacturing, a company that makes sports balls, says sales of bocce sets rose 250% in 2021 compared to 2019.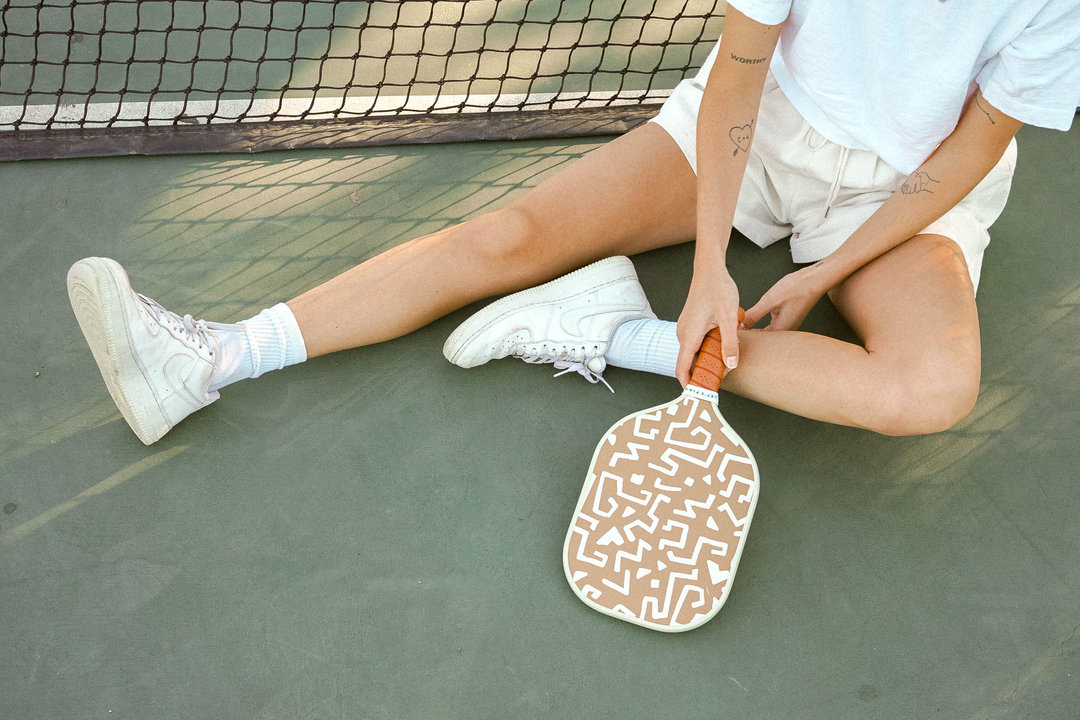 Brands get into outdoor games
Brands, of course, are trying to figure out ways they can cash in on these trends. The likes of Nettie, Recess Pickleball and Disco Country Club have launched with their own collections of printed pickleball paddles and balls. Last summer, Swedish brand TwoTwo launched, becoming the country's "first lifestyle brand for padel", a racket sport which is like a mix of squash and tennis.
Other brands have been expanding their ranges in order to dip into this trend. Recess Pickleball has collaborated with both Outdoor Voices and Neighborhood Goods to create limited-edition sets, while sneakerhead publication Highsnobiety has launched its own boules set, developed with petanque market leader Obut.
The new crop of pickleball brands all share a similar founding story — bored over lockdown, the founders began playing with their parents and friends as a way to socialize outdoors while sufficiently socially distanced. And unlike other sports, pickleball was easy to pick up — compared to tennis, you don't need anywhere near the same level of fitness or strength to enjoy a game of pickleball. "Even the people who didn't think they were particularly athletic were having such a good time," says Alyssa Carroll, the founder of Disco Country Club. "It's social, it's fun. You can play this game with a beer in your hand, or it can be as competitive as you like it to be."
Carroll has identified the same gap in the market her peers have seen, too. Namely, that pickleball paddles tend to be either super expensive, or cheap and ugly looking. The paddles are easy to update to modern tastes: the main surface can be printed to feature whatever designs fit a brand's aesthetic, while the grip tape on the handle can also be pretty much any color. "It's almost this fun design challenge," Carrol says. While pickleball has been around since the 1960s, "because it has much more recently become popular, you get to reimagine a history for it and apply a visual language."
Maggie Brown, the founder of pickleball equipment brand Recess Pickleball, adds that there has also been a lack of brands that target the "top of funnel" — players who have heard about pickleball, are keen to give it a go, and who may already be a fan of "any of these fun sports like cornhole that anyone can pick up or start playing." She says that Recess has sold over 12,000 paddles in the year that it's been in business, and that its customers tend to skew towards this younger, less experienced pickleball player.
What makes a hit game?
All different types of outdoor gaming kits are flying off the shelves at the moment, but each of the games that have found themselves among consumers' current favorites has a few things in common.
Classic yard games like tetherball or cornhole are popular because you don't need too much room to set them up, and the sets are often easy to break down and set up somewhere else — meaning you could take them on holiday, to the beach or to a party.
While games like pickleball are slightly different in that they require you go to a court to play, the brands argue that the social aspect is still their biggest draw, too, striking the balance between not being so demanding that your 60-plus-year-old parents can't join in, but also not so low-effort that you might be tempted to check your phone throughout.
Catherine Baxter, the founder of one-year-old pickleball brand Nettie, describes her core customers as millennials approaching their mid-30s, but says that it's common for people to buy sets to gift to their parents (and vice versa). "Pickleball gives people a way to have fun outside of technology, and be off their phones," she says, which makes it a good family activity.
At Crossnet, Meade says it's extremely common for parents to buy the game for their kids — who could be anywhere from 11 to 25 years old — and around 70% of people are playing in their backyards, rather than at the beach. "They want their kids to feel like kids again," he says. "And get them off their cellphones."
Crossnet has since introduced different variations of its nets — in September, it will release a portable pickleball net. Last summer, when it launched a pool version of its net, the first 10,000 units sold out in two weeks. But it hasn't always been this way. "When the brand launched, we struggled to get adoption," Meade says, adding that the founders decided to move to Miami in order to sell the nets in-person on the beach. The idea was, they'd take them back home after their holiday and keep playing. "Now there's 100,000 [nets] out in the world. Over time, word of mouth really spread."