Away vs BÉIS vs Monos Luggage Review: I tried all 3, here's my verdict
The following review reflects the independent, honest experience of a Thingtester. Thingtesting does not cherrypick, edit, or influence reviews. Our mission is to make online shopping more transparent.
Thingtesting is a community of people helping each other shop better, not more - join us by signing up and writing your first review today.
All products featured on Thingtesting are independently recommended by our writers. When you buy something through our retail links, we may earn an affiliate commission.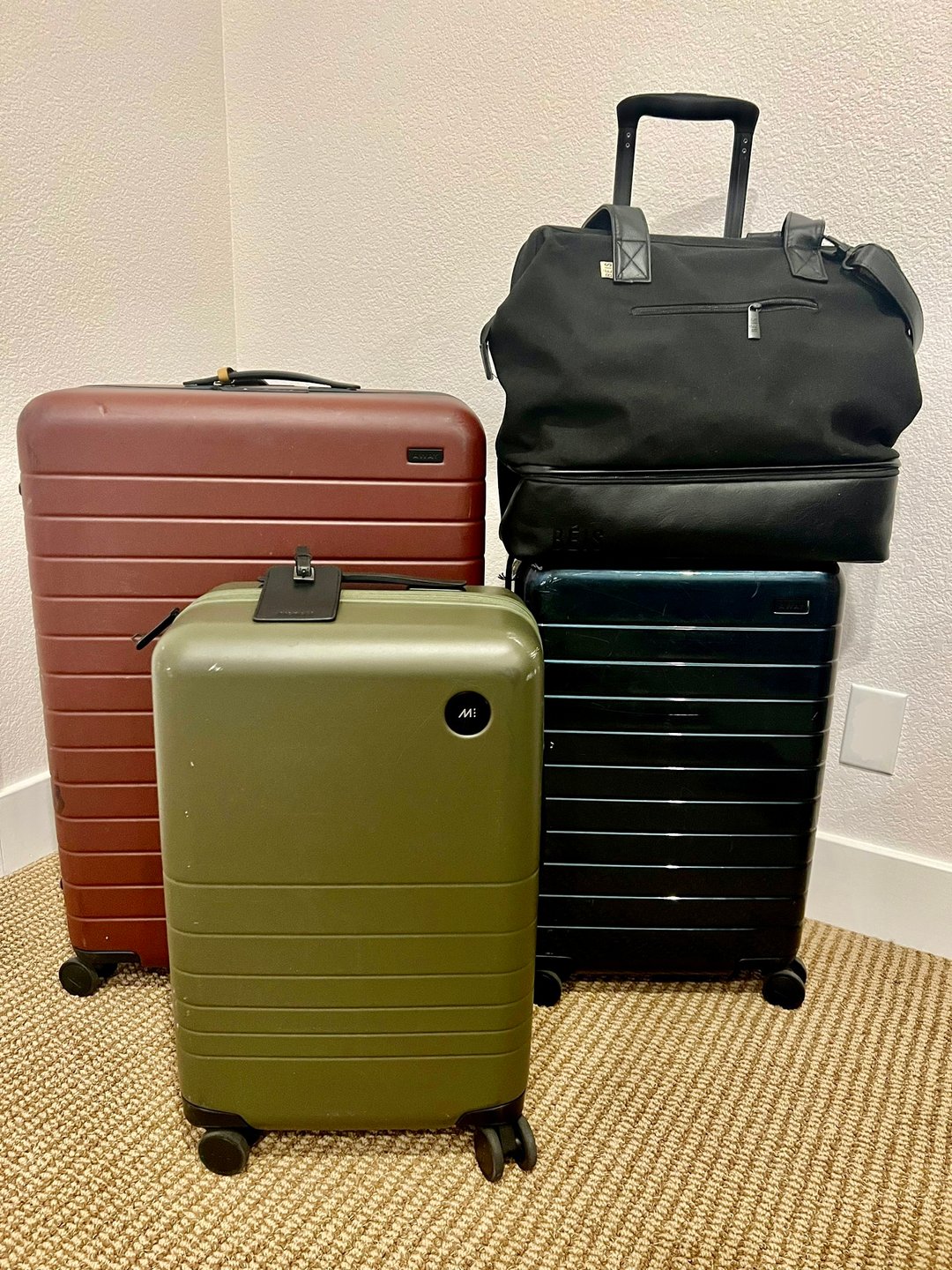 Which products did you buy for each brand?
Away: carry-on and check-in
Beis: weekender mini, sports tote, dog bag, REALLY wanted the ultimate diaper backpack but has been sold out a lot
Monos: carry-on and check-in
Did one luggage brand stand out among others in terms of product offerings or features?
Beis has a lot more types of bags and has women in mind when they design them. There is literally a bag for everyone.
Away and Monos are very similar in features. The wheels work almost identically. Both models I have do not expand and have similar hard shells. Similar layout and compression bag. Away and Monos have a similar warranty in theory. Both have TSA locks that work well.

Did you read any Thingtesting luggage reviews before making your purchase?
I hadn't joined Thingtesting before I bought any of them. (Wish I had)
Would you recommend Away, Beis, or Monos luggage to a friend? Why or why not?
Highly recommend Away and Beis. Both brands are reliable and look stylish.
Would not recommend Monos. Although the bags look nice and function similarly to Away, customer service is difficult to work with.
Have you used other luggage brands such as Calpak, Samsonite, Roam, etc?
Not for big luggage. Really love my Dagne Dover large diaper backpack!
Did any social media influencers or platforms, such as TikTok, influence your purchase?
Absolutely. Advertisements and influencers as well as online review articles.
Beis has great PR. Love every campaign and they always make me want to buy every new product. Shay Mitchell does great posts. Advertisements on Instagram and TikTok are engaging.
I had seen a lot of videos and comments on Instagram and TikTok about how easy the Away replacement process is. I almost didn't believe it until I had to contact them myself.
Any affiliation with Away, BÉIS, or Monos?
Nope.
Did you notice any issues with the quality or functionality of the luggage?
My Away bags are 3-6 years old. They have had a ton of use and are true workhorses. Have never had any major problems. They do start to scratch up from use. The rechargeable battery in my original carry-on is cool in theory, but they aren't allowed to stay in the bag anymore and I never remember to charge it!
On my last trip, my compression bag broke in half. I reached out to Away and had a response within 24 hours. They were going to replace the ENTIRE bag no questions asked. The caveat to getting a new model was it could only be the matte colors. My original carry-on is a limited edition color and I didn't want to part with it so they worked with me and sent me a new compression bag. The entire process from the first email to receiving the compression bag was 1 week. Incredible customer service.
Beis bags are great. The only functionality issue I see is with the bottom compartment of the weekender. It can be difficult to take on and off and since the whole thing doesn't fit under the seat in front of you with the bottom section on, it can be a little stressful when getting on and off the plane.
oh Monos. Both bags are less than a year old. The checked bag has already needed 2 repairs. The handle and the wheels. Customer service is not easy to work with. The bags were first sent to the wrong place. Then with repairs, they are painfully slow with responses and getting the parts you need to repair. You have to repair your own suitcase and it can be difficult to do that. Have had to not use them on multiple trips waiting for parts or responses. One bag has been fine, but the experience with repairs has left a bad taste in my mouth.
Did these products meet or exceed your expectations? If not, why so?
Away and Beis absolutely meet my expectations.
Monos has had multiple issues.
Would you buy Away, BÉIS, or Monos given what you know now? Is the price worth it?
Got both my Away and Beis carry-on bags on some sort of sale, but honestly think full price is fair.
I would have never bought Monos if I knew they were going to be so prone to breakage and had difficult customer service. I wish I would have tried Beis luggage or stuck with an Away carry-on.
Share your feedback. What would you change or what could use improvement?
Away: Even though the replacement process is so easy and I am so grateful they were willing to work with me so I could keep my bag, when a limited edition bag breaks you should be offered a like for like product. A limited edition for a limited edition.
Beis: products are always out of stock! I desperately wanted an Ultimate Diaper Backpack when I was pregnant. My baby just turned 10 months and it just got restocked.
Monos: customer service needs work. Repairs / replacements should be easy
🏆 Best Luggage Brand Overall
Hard to choose one because the bags are slightly different ...
Rating
Away: 5/5
Beis: 5/5
Favorite Product
Away: the carry-on
Beis: weekender mini. Honorable mention the ultimate diaper backpack. Incredible design.
👉 Need more guidance? Read about Away, Monos, and other luggage brands here.