These direct-to-consumer brands want to cure your hangover
Forget fried food and Bloody Marys. These brands say they've got an answer to the age-old question of how to get rid of a hangover.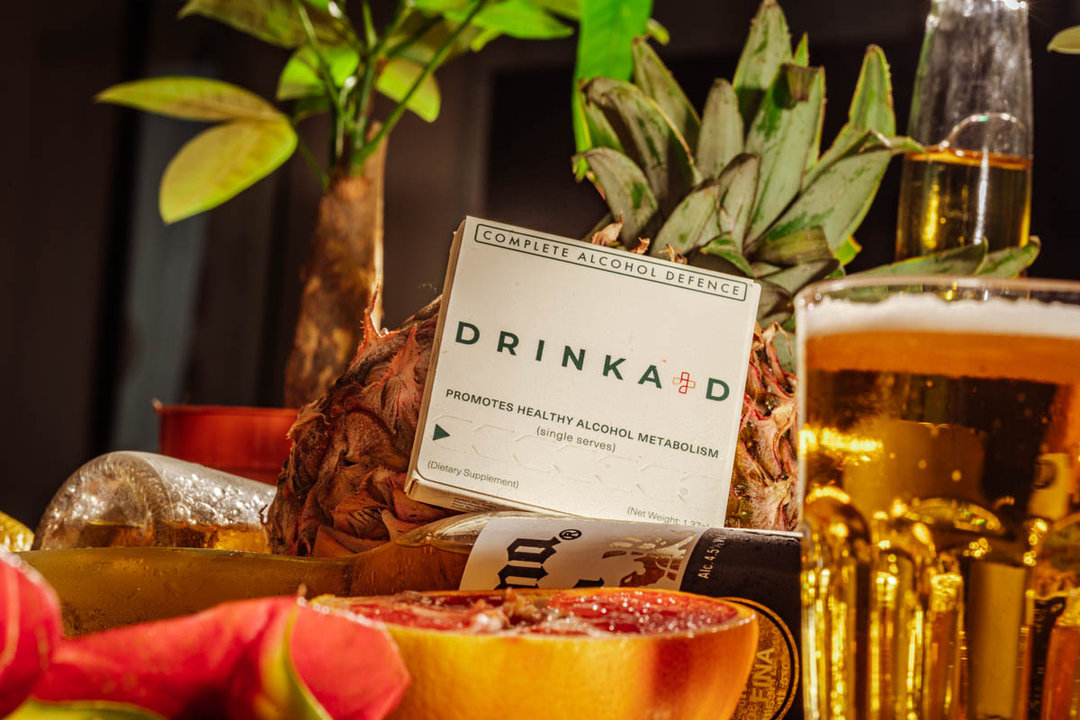 Every Sunday, almost like clockwork, people around the world head to Google and type the words "hangover cure" into the search bar.
The question of whether or not it's possible to make a hangover completely disappear has puzzled humanity for generations, and still there is no definitive answer. Many of the most popular "remedies" people turn to are rooted more in tradition than in biological fact. Greasy fried food, briney pickles, or even a bit of the hair of the dog that bit you might alleviate the pain temporarily — but not much more.
That's not to say there are no scientifically-grounded remedies out there, though. Rehydration powders that mix into water are popular for helping to ease brain fog, while those with throbbing headaches might turn to painkillers. "We've definitely seen people buying through that lens," says Jamie Renney, the cofounder of Flightfūd, a brand that sells a rehydrating drink mix for air travel. "We also get shout-outs from influencers — and one in particular has mentioned that they use it when they know they're going to have wine."
In America, rehydrating IV drips are reportedly having a moment among those looking to nip their hangovers in the bud, with gyms and clinics now offering the service. There are even doctor-on-demand apps that will come to your home to administer the drip — so long as you're willing to spend $200 on it.
Meet the modern hangover-cure brands
Naturally, a number of online-first brands have launched in recent years looking to give the category an upgrade, using science-backed ingredients that they say are better tailored to combatting the effects of a hangover, or even preventing it altogether.
In 2018, Canadian hangover remedy brand No Days Wasted launched with a hero product called DHM Detox — which contains an ingredient derived from Japanese raisin trees that has been shown to help the liver metabolize alcohol more efficiently.
This particular ingredient is already in common use in Korea, where the culture of haejanghada (the practice of getting over a hangover) has given rise to a booming anti-hangover industry. In 2019, hangover preventions were estimated to be a $170 million market in Korea, growing at 15% year-on-year.
DrinkAid, a Singapore-based brand which launched in August 2020, also uses the ingredient in its hangover remedies. The brand's cofounder Ryan Foo says that because it helps the body to actually break down acetaldehyde, the toxic substance your liver converts alcohol into, it can prevent a hangover and also relieve symptoms you might experience during drinking, such as facial flushing and nausea. "Because our product targets the root of the issue, you won't feel as messy the next day or even during the time you are drinking," says Foo.
Other young brands selling hangover remedies online include More Labs, which makes Morning Recovery and raised a $10 million Series B round in October. In July last year, its claim that the drink is "scientifically formulated to help you bounce back from drinking" was approved by the NAD, although it was asked to be a bit more specific about which symptoms it can actually help with. Nonna Lab is a French brand that makes a hangover drink containing Korean pear, another ingredient where studies have backed up its anti-hangover effects. Cheers sells a range of tablets for before or after drinking that contain DHM and ZBiotics, based in San Francisco, has developed a genetically engineered probiotic that it says breaks down acetaldehyde, a byproduct of alcohol.
Hangover remedies in a sober-curious world
The number of hangover-focused brands popping up in a world where there is constant talk of younger people giving up or significantly cutting back their booze intake is a curious phenomenon.
But these two trends are not completely misaligned — while health concerns are the most common reason cited by people who are cutting back on booze, a significant number are doing so in order to avoid wasting their time dealing with hangovers.
Foo says that as lockdowns have eased in Singapore, drinking is something that's definitely been back on the cards for people. In 2021, the country went through a series of intermittent, partial lockdowns — at points where the economy reopened, Foo says sales would shoot up by 50%. Within six months of launching, the brand had already turned over six figures, he adds.
To help people to try out the product, which is still fairly novel in its home market, DrinkAid has partnered with bars and restaurants across Singapore, so people can order a DrinkAid alongside their drink of choice. "The market penetration isn't that high. Most people are more familiar with taking painkillers to make themselves feel better," says Foo.
Still, brands have to be careful not to be seen as glorifying drunkenness or encouraging people to consume unhealthily — after all, the best way to avoid a hangover is of course to avoid overindulging in the first place.
"This was exactly our dilemma when deciding on the positioning of our product," says Foo. "We couldn't position it as a full-on wellness brand." Instead, the brand sees itself as something that is there for you on the occasions when you do want to drink. There may also be times where people feel compelled by social expecation — as is the case with after-work drinks in Singapore, Foo says. DrinkAid, then, can help people "have a more positive experience."
While Flightfūd was created with the idea of helping people to fix some of the common problems experienced when flying, from weakened immune systems to dehydration, Renney says that it's not uncommon for customers to switch between using the product for that purpose, or for helping to alleviate a hangover. "We really do try not to market [as a hangover drink because it was truly created for in-flight," she says. "[But] if you're having any kind of fogginess or an off day, it's really not a bad thing to have. It really softens the blow the next day."