Reviews
Aer
Experience
I own the Travel Pack 2, the Cable Kit 1, and the wonderful Lunar Pack (Ministry of Supply collab). The materials are top-notch (X-Pac for the TP, Cordura nylon for CK/LP, YKK zippers for all!) and the structure of the bags have really challenged and changed the way I think about carry and organization. Features such as the admin panel, a suspended laptop compartment, quick-access pockets and comfortable handles really show that these products are designed with every last detail in mind.
Feedback
There should be more colorways other than black/grey exteriors with grey/orange (on occasion) interiors! The Lunar Pack I own is such a gorgeous blue and i've found some long sold-out green olive products in collaboration with other brands. Their page should feature shorter models wearing their products!
High quality
Innovative product
Cool look & feel
Worth the money 💸
Travel friendly ✈️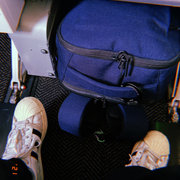 Yamazaki Home
Experience
So far have only tested their Leaning Ladder Rack, but it's been such a game changer I'm eager to try more of their products. Well-packaged, clear assembly instructions, and very sturdy even with an absurd amount of blankets and bags hung on it.
High quality
Worth the money 💸
Works really well
Offhours
Experience
It's got a nice weight to it that makes it ideal to cuddle up in. Soft material which surprisingly is not overwhelmingly hot while wearing. I've machine washed it and after a dozen or so times there's a small hole right where the pockets are sewn. PERFECT pocket sizes for phone + remote. The waist tie placement is genius. At 5'1" it fits me surprisingly well, I just fold up the sleeves a little bit and they stay put.
Feedback
I bought it second-hand, so the price point wasn't really a concern for me personally. But for $300 it's a real "treat-yo-self" kind of product!
Good for gifts 🎁
Cool look & feel
Special occasion 💃
Luxury