Aer
Aer makes minimalist and functional travel gear for all occasions in life.
www.aersf.com
Average rating from 6 users
100%Recommend to a friend
I bought one of their backpacks - they're stylish, sturdy, and the brand has some more unique designs that are subtle but still stand out if you take a second look.
---
Both my boyfriend and I have a backpack from aer. we were on the search for the perfect EDC/travel hybrid backpack for the longest time and tried so many different brands. We both took a chance and got the xpac version of the backpacks and we both love them! I have the small travel backpack and I love it, its small enough for day to day use and big enough for travel. It has a ton of pockets and organizational areas which I love.
---
---
I have a small travel tech case and love it. It's taken the mound of stuff that falls to the bottom of my bag on every trip and given me a neatly organized solution. And it fits A LOT! I like to switch bags a lot and this allows me to jump between them confidently without forgetting things. Quality product that has stood everyday use for years.
---
What is Thingtesting?
Thingtesting is an unbiased place to research and review internet-born brands — because honest reviews help us all shop better. Learn more.
---
I love these bags! They look great and last forever. My friend's dog chewed the strap on my first backpack and Aer sent me a gift card to help cover the cost to replace. Great customer service.
Feedback
Some people dislike the large/ loud zippers but I've found them to be great.
---
I love the backpack I bought from Aer. Of the expensive and versatile backpacks I have bought, the Aer travel pack is the only one that has really been worth it. Great quality, reasonable prices, and tons of variety!
---
I own the Travel Pack 2, the Cable Kit 1, and the wonderful Lunar Pack (Ministry of Supply collab). The materials are top-notch (X-Pac for the TP, Cordura nylon for CK/LP, YKK zippers for all!) and the structure of the bags have really challenged and changed the way I think about carry and organization. Features such as the admin panel, a suspended laptop compartment, quick-access pockets and comfortable handles really show that these products are designed with every last detail in mind.
Feedback
There should be more colorways other than black/grey exteriors with grey/orange (on occasion) interiors! The Lunar Pack I own is such a gorgeous blue and i've found some long sold-out green olive products in collaboration with other brands. Their page should feature shorter models wearing their products!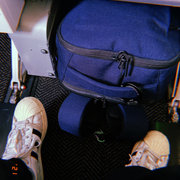 ---