von Holzhausen
Von Holzhausen sells future-minded accessory collections made from Technik-Leather, a 100% animal-free and sustainable leather alternative.
vonholzhausen.com
Average rating from 2 users
I have the large shopper and I adore it. It looks very high end, holds a ton, and feels sturdy. I always get compliments on it. It could definitely be a work bag (fit your laptop).
---
i purchased the large clutch many yrs ago & its my go to bag for nights out. most clutches are to small (though these days i know everyone wants small & has chain or cross body) but this one caught my eye bc its navy & black so matches everything & it tucks under my arm comfortably though i wouldn't take it somewhere i was standing a lot like a concert.
Feedback
the "leather" is super soft & you would never know actually made from plants & recycled fibers which is cool. the bag has a zipper which is a must for me bc i hate when stuff falls out of my bag just lying it on a table or the seat of my car & the zipper is hidden so clutch still looks chic. the inside has a pocket but what i really love is the 4 or 5 slot built in for license & credit cards, like wallet slots but built into inside of bag so don't need take extra wallet in clutch which saved space & i like knowing the cards are secure & not just loose. also think price point while not cheap is fair for the product getting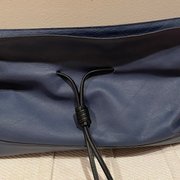 ---