Uni
4.2 • 10 Reviews
Uni offers a refillable system for unisex hand soap, haircare and bodycare products formulated with reef-safe ingredients.
weareuni.com
Average rating from 10 users
90%Recommend to a friend
This is my boyfriend's new favorite lotion. Having received samples from our local Erewhon, we were intrigued. The scent is pronounced at first, but settles into the wearer's skin well. The scent lasts a long time, and hydrates the skin well - like a lotion and cologne/body scent all in one! We wish it was a bit more affordable, but will buy it as a splurge in the future.
---
I've tried the moisturizer and shampoo now and will probably swap out my old shampoo for theirs! Their products feel like they give your skin and hair some extra life and plump and they're luxurious and effective. I don't love the scent of the moisturizer and wish it came in multiple options instead of just one.
---
---
UNI Refill System is incredible. Well thought out, from sustainability to quality. Five stars! I have subscribed and have found my "product for life" I can finally stop looking. UNI has it all. Smells amazing, feels luxurious, and I know I'm doing my part to live clean and sustainably. Side note, the scent doesn't project very far after a while, which I LOVE. This allows for a more intimate feeling.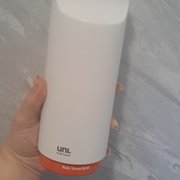 ---
What is Thingtesting?
Thingtesting is an unbiased place to research and review internet-born brands — because honest reviews help us all shop better. Learn more.
---
I've purchased a total of 3 subscriptions. One for myself, one for my husband, one for us both so we NEVER run out. There are so many people using this I had difficulty getting my original body serum refill. After it came my Husband started using it and he loved it. So we ordered him his own. When traveling we fill our travel sizes with it . It's a remarkable product! Priced right and great results on both our skin. We both have skin problems. He has psoriasis and I deal with eczema. I'm extremely sensitive to anything that is too harsh or filled with "extra" additives or chemicals. Uni body serum has only great ingredients.
---
I ordered the starter kit… I love that the company is sustainable and the actual soaps are free of harmful ingredients.. I really loved the body wash it soaps up but not like a soap with sulfates. Your skin feels clean after use. I have thick wavy long hair the shampoo I thought was little drying for my hair type, but the cream rinse is amazing.. the smell is subtle and it detangles my hair for no need to use other products. the skin serum is by far the best cream I have used on my aging skin in a very long time. I was noticing my skin was getting crepe look… the serum reversed that with daily use, although the smell of the serum is little strong (ocean woodsy smell). In a short time it dissipates… overall I really love the product I'm willing to pay the price for better me.
---
For me -- it's worth it for the branding, the scents, the look/aesthetic of these products. They look SO COOL in the shower, by the sink etc. I have the hand wash & the body wash and I must say everything about the unboxing, the sustainable way to send back empty for refills, and the quality of the materials make these feel so luxurious. The formulas are nice and feel nice, but the design is what wins for me!
Feedback
I think this could be the start of something BIG. Think about the opportunities to make need-specific body washes or varying scents / collaborations... With the dispense system Uni. has, the opportunities are endless for personalization! Limited edition colored pumps, and even new products i.e lotions, masks, face serums etc.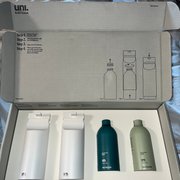 ---
Received a free product from Uni
Love love love the brand's mission. We should ALL be moving towards building products as sustainable as these! I am a big advocate of Uni for that reason alone. I love the texture of every product - even the conditioner, which seems hard to get thick enough, is a great texture. The strong scents are not my favorite (but I'm not a big scent person, so they could very well be for you.)
Feedback
Cannot wait to see what this brand rolls out next. (A lotion seems to be an obvious next step... And maybe a black cover container?) I must admit, I like the design of the colored bottles more than the white pump covering.
---
So disappointed in the results from this brand. We purchased each item from their line (body serum, body wash, hand soap, shampoo, and conditioner with 5 pumps). I have extremely sensitive skin, asthma, migraines, and other sensory issues, so the quest for non-sensitizing products is REAL for me. 1. The Body Serum - The most disappointing product by far. I was looking forward to this as a potential replacement for either Soft Services or Necessaire body serum. I used it exactly once and immediately had a sensory trigger from the fragrance -- migraine and asthma. The texture was unlike any body serum I've ever used. It left an uncomfortable dry film on my skin. My spouse used it for a couple weeks until I asked him to stop (due to the fragrance). He reports that it didn't seem to do anything for his dry patches or irritated follicles. 2. The Body Wash - I used this longer than any other product, until I realized that it was not helping my skin during a bout of eczema (so I went back to my old wash). As body washes go, it was fine. No vaginal discomfort as with some varieties, and it didn't strip my skin. It just wasn't gentle enough or moisturizing enough for me, someone with super delicate skin. Soft scent. Rather thin texture, which is nice if you like using a natural sponge. 3. The Hand Wash - The grit was surprising. My spouse still hasn't forgiven the product for having this feature, and it's the last product he's still using by Uni. I initially used this product and thought I'd get used to it, that was until I developed a patch of dyshidrotic eczema on my hand and bailed. My spouse says that, to him, the grit doesn't add anything except making it difficult to scrub your hands comfortably. Add to that that the soap is super thin, and you have a very hard time washing your hands at all before the soap is already gone. 4. The Shampoo - I wanted to like this, but as a curly haired lady (dense, long curly hair), this shampoo was far too aggressive for my poor strands. Even my spouse (thin, mid- length, slightly wavy hair) thought that it was a little "stripping". I can forgive a clarifying shampoo for what it does, if I only use it occasionally, but unfortunately this (combined with the conditioner) made my head itch intensely. Zero buildup, just an allergic reaction. 5. The Conditioner - I really, really wanted to love this conditioner. I actually went back to it a few times after I knew I shouldn't, just because I liked the texture. It is a good texture for medium curls and has decent slip. However, as I stated with the shampoo, the two products gave me an allergic reaction and I had to stop using them. My spouse was less impressed with both and only used them once.
Feedback
I cannot recommend this brand AT ALL to individuals with asthma, allergies, sensitive skin, sensory issues (such as migraine or epilepsy), or similar disorders. We were very disappointed, given that we were obviously not going to be continuing with the renewal program, to discover how non-renewable (ie, recyclable) the pump systems are. I cannot recommend buying the system as it is intended, but filling up your own renewable bottles if you decide you like the products. The pumps are not designed well. The attached photo shows the results of continued use of the pump. You cannot effectively use the pump without getting product down the side of the unit.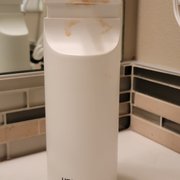 ---
Uni's 24-hour Body Serum has been a game-changer for my skin. Its lightweight texture and all-day hydration are impressive, keeping my skin feeling soft and moisturized without any heaviness or stickiness. However, I do have a gripe with the product: its fragrance. The scent is heavily based on sandalwood and cedar, which I personally do not prefer. It lingers for a while, which has been a challenge for me. Despite this, the quality of the serum and the results it delivers make me tolerate the scent. It's a testament to the serum's effectiveness that I'm willing to get past my aversion to the fragrance, which says a lot. That being said, I would love to see a fragrance-free version of this product in Uni's lineup. It would make the serum more inclusive for people with different fragrance preferences or sensitivities. The feature that solidifies my support for Uni, beyond the quality of their products, is their commitment to sustainability. It's evident that Uni's commitment to sustainability goes beyond mere words - their actions demonstrate a comprehensive approach, factoring in the entire lifecycle of their product components. The fact that they provide an easy process to return empty bottles for recycling is commendable and sets them apart in the market. Another sustainability initiative of Uni's is that all of their products are "reef-safe." While this may not matter to everyone, it definitely resonates with me, and another reason I continue to purchase. From the Uni site (they can explain it better than I can): "Uni scrutinizes every aspect of the product lifecycle that can possibly impact our reefs. In addition to oxybenzone and octinoxate, we adhere to the continuously evolving HEL list to remove ALL ingredients that are potentially invasive of our waterways. Finally, we have partnered with Coral Gardeners to donate 1% of all online sales to coral reef restoration. Protecting our reefs means protecting our planet, which should be important to all those who share it." In summary, if you're not put off by sandalwood or cedar scents and are looking for an effective, lightweight body serum, Uni's 24-hour Body Serum might be worth your consideration.
---
Hands down the best bodycare company. Not only does it look like an apple product, but the actual LIQUID is phenomenal!!! Obsessed and so psyched to have a sustainable product like uni in my home.
---