Average rating from 22 users
62%Recommend to a friend
Title: Disappointing Experience with Terra Kaffe: A Costly Paperweight Rating: ★☆☆☆☆ (1/5) I must admit that my experience with the Terra Kaffe coffee maker has been nothing short of a nightmare. From the moment I received the initial unit, I encountered problems that persisted throughout my ownership of this device. Unfortunately, I cannot recommend this product to anyone, given the numerous issues I've encountered. The first Terra Kaffe unit I purchased turned out to be defective right out of the box. It refused to brew coffee at all, which was incredibly frustrating. Thankfully, the company agreed to send a replacement unit, but the problems did not end there. The second unit worked relatively well for about six months before issues started to arise. The machine began displaying error messages, insisting that the water tank was misaligned. I followed the provided instructions to clear the message, but even after doing so, the water still wouldn't flow properly through the machine. This led to a series of back-and-forth email exchanges with Terra Kaffe customer support, which, quite frankly, was a less than satisfactory experience. After several attempts to get the machine running again, it mysteriously stopped making coffee altogether. Once again, I found myself engaged in a frustrating email exchange with Terra Kaffe's customer service team. They often resorted to directing me to YouTube videos as a primary solution, which was far from the level of support I expected for a premium product. To salvage this increasingly expensive and underperforming coffee maker, I resorted to multiple deep clean cycles, rinsing, and even dismantling and cleaning the brewing unit. It was then that I discovered that the mechanism responsible for compressing the coffee was misaligned. Another round of emails, another YouTube video tutorial on realigning the mechanism—this process was far from user-friendly. After getting everything back in order, I experienced a mere two days of normal functionality before the machine began dispensing only hot water, completely ruining my coffee. Once again, I had to contact customer service, who this time requested that I send them a video of the machine's attempt to brew coffee. At this point, it was clear that the Terra Kaffe coffee maker was nothing more than an expensive paperweight. My experience with Terra Kaffe has been overwhelmingly negative. The lack of a reliable product, coupled with a customer support system that heavily relies on YouTube videos, is unacceptable for a high-priced coffee machine. It's evident that this company does not stand behind its products, leaving customers to spend both money and time attempting to fix a clearly defective item. Save your hard-earned money and invest in a coffee maker from a brand that delivers quality and customer support you can trust. Terra Kaffe simply doesn't live up to its promises, and there are undoubtedly better alternatives available in the market.
---
We bought this machine a long time ago now, with high hopes of drinking beautiful daily espressos. We have now been through several returns / exchanges due to issues with the machines ranging from steam coming out the sides to cracks appearing in the body of the machine due to heating / cooling. The coffee it makes is actually pretty decent, and the convenience factor is there. However, the maintenance of the machine, build quality, and the overall design of the machine make it hard to recommend to someone who wants a quality experience with low levels of hassle.
---
---
it was good for 2 years, but after having issues with it- it's hard to get a person over the phone to talk to, to see how i can fix the problem. always going through several emails which is frustrating. so yea, still with a non-functioning coffee maker for a month. so we'll see.
---
What is Thingtesting?
Thingtesting is an unbiased place to research and review internet-born brands — because honest reviews help us all shop better. Learn more.
---
I have the had TK-01 for 2 1/2 years. I think it's popular because of what it provides for the price. Unfortunately, because of the price, it's durability and reliability are poor. As others have pointed out, the machine leaks. I have not had a "flood," but there is always a coffee stain on the counter under the machine. I went through the repair processes through Terra Kaffe. They sent me all types of replacement parts, with no success. I sent it back to Terra Kaffe, who "repaired it" under warranty (I had to pay for shipping to them). It didn't leak for about 2 weeks, then started again. I just lived with it. This week, the touch panel "froze." I can turn the machine on and off, but that's it. The machine is no longer under warranty, and it will be $200 to repair. Terra Kaffe will guarantee the repairs, wait for it, for 90 days. Gee, thanks! Having to send the machine back twice in 2 years is just very disappointing. I am beginning to understand why the machine is priced the way it is. At this point, it would have been more cost effective, and convenient to have bought a more expensive machine. UPDATE: Had the machine back for 45 days after repair and the steamer went out. The TK-01 won't even start. Terra Kaffe would be happy to repair it for another $200. JUST DON'T DO IT! You get what you pay for, and this is a YUGO (if anybody is old enough to get that reference. Haha)
---
I received the TK-01 as a Christmas gift from my boyfriend. I was so excited to finally have my own coffee machine and to make lattes at home. However, I have had a very disappointing experience not only with the TK-01 but also with the company as a whole. I began having issues with my machine a few months after receiving it. After reaching out to customer service, they gave me multiple things to try and fix the problems. Once one problem was fixed, another arose. I struggled with the espresso dispenser, the screen glitching, the drip tray sensor breaking, the brew unit getting jammed and pieces broken to get it out, and most recently, the milk system no longer works. It was clear from the start that this machine was dysfunctional. While the problems started under the warranty period, it is no longer under warranty and it is basically useless. Due to it being out of warranty, the only thing customer service is offering is for me to pay $175 for a repair kit. This machine originally costs $895 and it didn't even last two years. Not once was I offered a replacement unit, a repair kit, or reimbursement under warranty. I completely understand that machines with many parts will have problems but for a machine that costs almost $900, I expect it to last far more than a year and a half or a replacement for a machine that clearly is not up to par. All in all, if you get a machine that is in pristine working condition, it's a great product. But if you get one that has any problems, don't expect this company to replace or reimburse for their broken products. Due to the money that has already been put into this machine and lack of proper solutions, I will be taking my business elsewhere.
---
We LOVED our machine and had no issues until the 1 year mark. Our machine started leaking and causing messes even leaking onto our floor without us knowing causing it to warp. Another issue that we came across was the machine wouldn't show that the water tank is empty and not make a coffee causing us to waste our coffee beans. I have contacted Terra Kaffe about our issue and the best they can do is have us send the machine back and pay $250 for a repair. I find it incredibly disappointing because we were 300 brews over the amount of brews allowed under the warranty. Which half of those are probably wasted coffee brews where the machine didn't register that the tank is empty. My husband and I have not decided if we will send this machine back for the repair or if we should invest in a machine that won't have these issues.
---
These coffee machines are amazing. We had one in our office and it worked like a charm. I'm not an expert on espressos, but from what I do know I thought the quality was great. The self-cleaning feature seemed to work well too which is always a good thing.
Feedback
I wish they sent us replacement tubes that connect the milk canister to the machine. They were hard to clean, and if we forgot to empty the canister each night, it was not a pleasant experiencing cleaning the day old milk the next morning. The hose was virtually impossible.
---
It has changes the whole coffee game for me. After Terra Kaffe I realized what a good cup of coffee is. Anyone thinking about investing in a new coffee machine, this is it!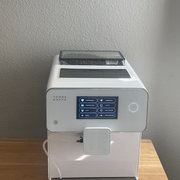 ---
I've had the machine several months and have been extremely happy with the product. I was having trouble with a few options but there are easy short videos on the website to fix the alerts. If you take 2 minutes pay attention to the video it makes it a breeze. The coffee is great with fresh beans of course! The grind setting on 1 works the best for me. I ordered cleaning products and water filters. I received the tracking number the next day and it was a fast delivery. The only thing I've had trouble with was a replacement hose #2 it's been out of stock. Other than that it's great nothings perfect but I love this machine.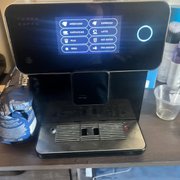 ---
Bought their machine. Loved it but it stopped working. Worked with CS and had to send it back for repairs. They have a 1 year warranty and they fixed it right up within 2 weeks. Honestly. The best when it comes to whole bean coffee. You can just throw a bag in and let it grind.
Feedback
The digital touchscreen is great but the settings menu and UI is very clunky. You can be intimidated if you don't know much about coffee. Maybe just some retooling of the touch screen UI and a bigger water tank so I don't have to fill it up as much. Also being able to create a customer profile so I can have my settings and then another person can save their settings and can switch back and forth.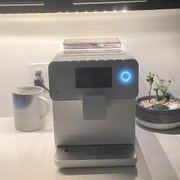 ---