Get Supr
5 • 3 Reviews
Get Supr makes 100% organic Columbian instant coffee infused with healthy, broad-spectrum, water-soluble hemp extract.
getsupr.com
Average rating from 3 users
Never been a fan of instant coffee, or thought about using CBD during the day... and Get Supr just changed my mind across the board. I live off this stuff, now, and love that I can take it anywhere and don't need to have my whole coffee set up to enjoy it. It leaves me feeling energized without the jitters - love it!
Feedback
I would love future innovation to be one with a little creamer mixed in, so I don't have to add to it, but other than that - nothing to make better! :)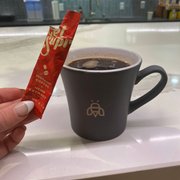 ---
Love mixing this with creamer + monk fruit sweetener for some sweetness without a sugar high. Tastes really smooth for instant coffee, I would have thought it's brewed if I tried it blindfolded. Super cute packaging and easy to use anywhere. Love the energy it gives me during finals without giving me caffeine anxiety (thx to the hemp).
Feedback
A future matcha flavor would be neat
---
---
Not a huge coffee drinker due to coffee usually making me extremely jittery. Recently I tried Get Supr and I've never felt so good after drinking a cup of coffee. Didn't get anxiety or any sort of shakiness afterwards. Headaches? Who is she? An amazing brand! Recommend to all to try especially people who have the same problem as me with regular coffee. It calms my entire body with the hemp that's infused. Absolutely love it!
---