Smalls
Smalls makes human-grade food for cats delivered directly to doorsteps.
www.smalls.com
Average rating from 8 users
57%Recommend to a friend
My first order was a sample box. 1 of my 2 cats liked the Smooth Bird & Ground Bird, both are made with/ chicken, chicken liver & chicken hearts. They didn't like the other choices which consisted of 'Other bird(Turkey), Cow or Fish' recipes. After 2 months of trying to order the Smooth & Ground Bird, You can't just call & speak to a rep. if you have an issue. You have to request a phone appt through email or text, for them to call you or you have to communicate through email and/or texting. That was where the issues happened with the quantity & choice of flavor. They sent the wrong flavors, and the wrong quality 5 times, but when I sent an email/ text, regarding the wrong orders, they quickly responded and refunded the money to my CC. The biggest issue I now have with this co is they changed the original Smooth & Ground Chicken Recipes! This was the only recipe my 16 yr old kitty would eat and I mean as soon as I would put his bowl in front of him he would devour it. He won't touch the new recipe/formula, he tries to bury the bowl! To the Smalls Co. ARE YOU NUTS? YOU HAD A GREAT PRODUCT, now it's garbage I have to start all over again searching for a food he likes.
---
I got this for two cats and both of them did not like it. They refused to eat any of it which sucks. I like the brand itself and the concept of it. And shipping was on time. But it's a gamble on whether your cat will like it or not. The packaging makes it a bit difficult to store for future meals from my experience (I ended it up moving it all to a designated Tupperware each time I opened a new flavor).
---
---
We subscribed to Smalls last year and while our cats initially liked this food, I believe they recently changed formulas and our cats are no longer fans. On top of that, the customer service and shipping/packing issues are horrendous. If we order a combination of the different flavors/textures, we never get what we ordered. And then, when reporting that to customer service, we get a unsatisfactory response that just makes excuses for the issue. Most recently, I ordered the turkey and chicken in both smooth and ground textures, but just received ground. When reporting that to customer service (only via email or text, no phone), I was told that unfortunately, looks like they were just low on the smooth textures and to just use the ground instead. I wasn't offered a refund, and I find that so unacceptable. No other company would send something other than what I ordered and expect ME to pay for it. I'm not sure what's going on with this company but there are certainly issues internally. I just refuse to pay a premium for this food and get zero service when there's a problem.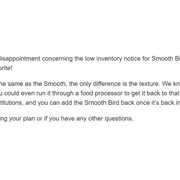 ---
What is Thingtesting?
Thingtesting is an unbiased place to research and review internet-born brands — because honest reviews help us all shop better. Learn more.
---
LOVE the branding, love the mission, just wish my cats loved it as much as I do.
Feedback
The frozen rolls of food are super hard to open unless I stab them with a knife. Have you looked into a more sustainable version?
---
my cats didnt love it and its very pricey, I wish it was available in stores to supplement the food i know my cats like rather than in a hefty expensive subscription
---
I subscribed briefly to Smalls about a year ago. Unfortunately my cat is SUPER picky about her food and never fully got into it. I really tried to make it work because the brand is SO cute, and the experience was also great. I ended up donating the remainder of the food to a local rescue, and those kitties were more than pleased with it. In the first 5 minutes, one bit a hole through the bag to get to the goods.
Feedback
I found the storage container didn't have a great seal. I did have one bad delivery where I was not notified and wasn't sure how long the food was sitting outside. Not sure if that's on Smalls or my local courier.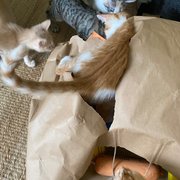 ---
I had high hopes for this brand but ultimately it missed the mark. I think it's not for me due to how closely you have to keep up with the subscription, feeding, thawing etc. My cat did eat the food mostly.
Feedback
Customer service was unhelpful when my order was sent to the wrong address. That experience definitely turned me off.
---
Received a free product from Smalls
I got the wet food, kibble, treats, and toys for my foster kitty from the ASPCA, and she was obsessed! My dog was obsessed with the treats, too...
Feedback
My foster kitty wasn't very interested in the knit toys.
---