Siete Foods
4.7 • 240 Reviews
Siete Foods is a Mexican-American food brand that makes items like taco shells, tortillas, enchilada sauces and more heritage-inspired products.
sietefoods.com
Average rating from 240 users
98%Recommend to a friend
Siete Foods Reviews
All

240
Tortilla chips

54
Tortillas

31
Churro chips

21
Dip chips

14
Taco shells

13
Wedding Cookies

7
Refried beans

6
Taco Seasoning

6
Enchilada sauce

5
Seasoning

5
potato chips

4
jalapeno lime

3
Blue corn chips

1
Mexican wedding cookies

1
Review highlights
Clean ingredients
Delicious flavors
Nutritious snacks
Expensive
Digestive issues
Small tortillas
I have only tried their grain free lime tortilla chips, but they are excellent. Very flavorful and crisp, with a charming family story. I have heard good things about their wraps (burrito size wraps) from friends.
---
Siete carries a great variety of snacks, from chips to cookies. Their chips are really good - they have a nice crunch, better ingredients, and come in a variety of savory flavors. Highly recommend as a good substitute to your traditional tortilla chips and dips!
---
---
I have most recently tried the Cassava Flour Tortillas which are only 60 calories each. I find them fantastic for a tortilla alternative, that are quite tasty and taste great. They do harden quicker than a regular tortilla and are a little smaller, but I still keep these around regularly.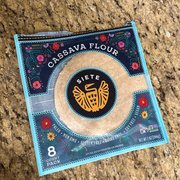 ---
What is Thingtesting?
Thingtesting is an unbiased place to research and review internet-born brands — because honest reviews help us all shop better. Learn more.
---
I love how accessible this brand is as you can find it at many different retailers. Their chips and tortillas are amazing.
---
so good! the mexican wedding cookies taste great
---
I will live and die for this brand. Siete has created some of my favorite snacks and tortillas. Prepare for a rant but I just have to share my favs! Almond Flour Tortillas - Amazing to crisp and add brown sugar/cinnamon/and honey Cassava Flour Tortillas - Fajitas and tacos Bunuelos Cinnamon Crips - be prepared to eat the whole bag in one sitting Nacho Chips - be prepared to eat the whole bag in one sitting and makes for a great snack after too many drinks at the bars Enchilada Sauces - both the red and green are delicious Mexican Wedding cookies - aren't my fav but they look really cute on a charcuterie board Note: You can pass on the lime chips. They're not the best in my opinion
Enchilada sauce
Wedding Cookies
Tortilla chips
Tortillas
---
I love all Siete food products! Delicious and guilt free… I buy them over and over
Churro chips
Taco shells
Dip chips
Tortilla chips
Tortillas
---
I need to def try more of their products but I love their tortillas
---
Love Siete foods, especially their chips and alternative tortillas. They are great options for those who are gluten free or needing to avoid certain ingredients. The flavors and textures are amazing!
Taco shells
Dip chips
Tortilla chips
Tortillas
---
I love this brand! Years ago it was so difficult to find foods that I could have due to an autoimmune issue. Siete is a brand I trust to have delicious foods that won't have a negative impact on me
---