Seconds has permanently closed down.
Seconds
4.63 • 8 Reviews
Seconds makes crackers using upcycled carrots, superseeds, and seasonings.
Average rating from 8 users
100%Recommend to a friend
Too bad they're already out of business. The crunch is 10/10. The flavor though is 5/10. I love their mission.
---
Crunchy, packed with flavor, and nutritious! I love pairing Seconds with dips like guac, hummus, or tzatziki + smoked salmon. Sometimes I'll even sprinkle Seconds into my salads to add extra flavor and crunch!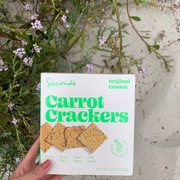 ---
---
Found these at Juice Press today and wow, what a treat! The flavors are unique and not too salty. I love the mission of the brand and the fun packaging. They are also gluten-free, vegan, and incredibly nutritious. Highly recommend for anyone looking for a fun new cracker brand!
Feedback
These crackers are on the tougher side, because they're so nutrient-dense, so if you prefer chips or crackers that are softer, lighter, or more crunchy, these might not be the ones for you.
---
What is Thingtesting?
Thingtesting is an unbiased place to research and review internet-born brands — because honest reviews help us all shop better. Learn more.
---
I love the mission. My only question was flavor and it passed with flying colors!
Feedback
Keep experimenting. I made a great platter with Seconds crackers, crème fraiche and salmon caviar.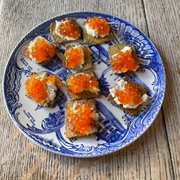 ---
I love the crunch! Firm cracker that is good for dips. No need to double dip! Favorite flavor is Everything. Seconds are great to serve for parties because they are vegan, gluten free and nutritious.
Feedback
The plain crackers are plain. Can they be saltier?
---
At a good friends home this weekend and she served SECONDS carrot crackers with homemade clam chowder! The chowder was marvelous and the SECONDS crackers was an excellent treat! Not only are SECONDS healthy, but the mission is perfect!! Looking forward to more delicious flavors going forward!
Feedback
Everything great... Would like to see more flavors.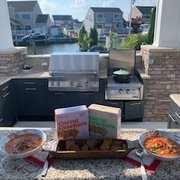 ---
I love Seconds! Their brand stands for so many values that I love and the product is healthy and delicious- what more could you want? I'm a texture person so anything crunchy is a yes for me, but the added sustainability is awesome.
Feedback
I think if they had a subscription service that would be great since they aren't in Trader Joe's (yet) which is where I usually shop.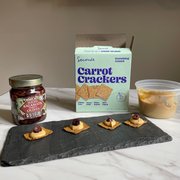 ---
I love these crackers! They have such a nice texture and an almost nutty after taste. Everyone I introduce them to loves them - even a friend of mine who is very anti-vegetables. His stamp of approval for these speaks volumes to how good they are!
---