Sea Monsters
Sea Monsters sells baked seaweed and sorghum puffs, offering a healthy snack that protects the planet too.
seamonsters.co
Average rating from 3 users
I found these to use when I was creating a sushi bake - thanks TikTok. They were amazing for dipping and creating non-rolled sushi. Also, they look super cute!
---
I discovered these delicious puffs at The Goods Mart in NYC. I was initially drawn to the incredibly cute packaging and the nutritional quality. These snacks are organic, vegan, gluten-free, and non-GMO. The crunch is light and the flavor is unique. It's a perfect snack for kids and adults alike. I highly recommend you give them a try; I will definitely be buying more Sea Monsters!
Feedback
As with any puffed snack, they can bit a bit messy, so just make sure you watch for seasoning dust once you get to the bottom of the bag - which I promise you will be quick!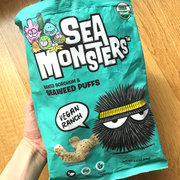 ---
---
These are so addicting! I love the puffs because there's a nice hint of seaweed that compliments the individual flavors so nicely. Personally, I'm obsessed with the Sour Cream & Onion flavor. I can't believe it's vegan, the seasoning is spot-on!!
---