Average rating from 6 users
100%Recommend to a friend
As a huge fan of popped lotus seeds, Sacred Foods produces some of the best. Their product is popped to perfection to create a light, airy bite. Reminiscent of popcorn, the wasabi and coconut vanilla flavors are unique and delicious. The wasabi has a lightly spicy bite while the coconut vanilla is caramelized for a more decadent treat. While the price point for the bag size tends to be slightly more than other brands, the quality cannot be beat.
---
Light and fluffy alternative to popcorn.
Feedback
A bit more flavorful, would be nice. But love that it's healthy and light.
---
---
The snack was really good, great crunch but it leaves an odd aftertaste. Definitely not ready to give up chips/popcorn for these
---
What is Thingtesting?
Thingtesting is an unbiased place to research and review internet-born brands — because honest reviews help us all shop better. Learn more.
---
I discovered Sacred Snacks on Instagram when they launched during the pandemic. I was looking for a healthy snack because I was getting bored of eating junk food. I am totally addicted because they taste amazing but I don't have to feel guilty about eating them. My new guilt-free obsession! My favourite flavour is the Himalayan Pink Salt.
Feedback
Bigger bag size so I can share it with my friends!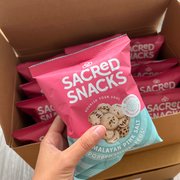 ---
I absolutely LOVE these snacks and have been a fan since I first discovered them during the pandemic. As a potato chop junkie, it was great to find a new snack that is healthier, delicious and equally satisfying. My fave is the Sweet Thai Chili. Highly recommend!
---
LOVE these snacks! Super cute packaging, delicious and healthy.
Feedback
Please make a bigger bag so I can eat more!
---