Rhode
Rhode Skin sells a range of skincare products designed by Hailey Bieber.
www.rhodeskin.com
Average rating from 35 users
73%Recommend to a friend
Rhode Reviews
All

35
Peptide Lip Treatment

14
Peptide Glazing Fluid

8
Barrier Restore Cream

7
Glazing Milk

6
Lip tint

1
I'm really not into celeb brands, but I have very sensitive skin with rosacea so I'm always looking for clean skincare — and that's what led me to Rhode. And I hate to admit that I'm obsessed. The Peptide Glazing Fluid and Barrier Restore Cream are great because for me they double as a day and nighttime routine. I really like these two products. The Peptide Lip Treatment feels like fancy and stickier Vaseline. I bought the non-scented one (obviously because my skin is so sensitive) and it smells and tastes great. I probably won't put it again just because high gloss isn't really my vibe. My only gripe is the packaging. It's a minor detail. But the matte sheen starts to pill and come off, so it makes the outside of the product look dirty. It's not a big deal, but I'm one of those weirdos that like to keep the aesthetic alive in their makeup bag.
Peptide Lip Treatment
Peptide Glazing Fluid
Barrier Restore Cream
---
I tried the Milk product. It felt great. Unfortunately it made my face breakout
---
---
I am obsessed with the Peptide lip treatment. It looks great, it's moisturizing & it doesn't feel sticky like most lip glosses do. Both of the moisturizing creams feel really great on my skin, but its a pretty small bottle & on the pricier side. The peptide glazing fluid is really hard to travel with because the plastic lid is so large. It would be nice if they repackaged this into a tube like the restore cream. I wish the restore cream was a bit thicker. These products tend to sell out fast - especially the peptide lip treatment, so the purchasing experience is a bit tough. Shipping was fairly quick once my order went out. It would be SO nice if these were sold at Sephora, I feel like I would repurchase if I could buy it & test new products in-store.
Peptide Lip Treatment
Peptide Glazing Fluid
Barrier Restore Cream
---
What is Thingtesting?
Thingtesting is an unbiased place to research and review internet-born brands — because honest reviews help us all shop better. Learn more.
---
I know that people have VERY definite opinions of the peptide lip treatment, but I'm kinda in the middle. It feels more sticky than other glosses, but I love the different flavors and it stays on my lips for a long time. I'd continue to repurchase!
---
Rhode saved my skin. I have extremely sensitive skin, combination of oily and dry. Most products make me breakout, even the cleanest ones out there, especially moisturizers. The Rhode Barrier Restore cream has healed my skin from years of facials, treatments, and face masks. The peptize glazing fluid has replaced the foundation for me... I now don't put anything on my skin asides from Rhode. And don't get me started on the lip peptide glazing fluid... game changer. I am not a huge fan of the Watermelon as it smells too unnatural but the other flavors are to die for.
Peptide Lip Treatment
Peptide Glazing Fluid
Barrier Restore Cream
Glazing Milk
---
For me, It doesn't really do a lot for my skin personally.
---
Received a free product from Rhode
I absolutely love Rhode!! I have every single product that Rhode has launched. I have repurchased so many times and I will continue to repurchase. The lip peptide is my absolute favorite and I can't wait to purchase the tinted ones! I was also lucky enough to receive the strawberry rhode PR box with a purchase. Rhode has great customer service and they also posted a TikTok I made. Love this brand and Hailey!!
Peptide Lip Treatment
Peptide Glazing Fluid
Barrier Restore Cream
Glazing Milk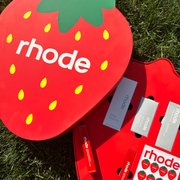 ---
I was wanting to like this brand. Maybe it's because of all of the hate that Hailey Bieber gets. I've used all different types of skin care and I was hoping that the basic collection of the essence, serum, and lotion would be really good. After two days, I can tell that I've not been using what was working on my face. I have combo skin. Oily in my T-zone and dry on my cheeks. I did not feel that any of the products really addressed the dryness on my cheeks the way Tatcha or Tower 28 does. I'm going to be returning this set because I'm having buyer's remorse. If you know your skin, you will know whether this product works for you in the first day or two. I didn't have crazy hopes for this but reasonable ones. My face did not feel hydrated and plump after using it. It felt withered and dry, still. I'm an honest consumer. Not a hater. I'm glad I tried it to say I did and also find value in what I was already using.
---
Obsessed with the lip treatments. Was worried the products would be overhyped, but really love how clean and nourishing the lip treatment feels without being oily or sticky. Immediately noticed a smoothing and moisturizing effect as soon as I applied. Peptide glaze for face is ok, I like using it as a primer under makeup.
Peptide Lip Treatment
Peptide Glazing Fluid
---
I decided to give The Rhode Kit a shot because I'm a big fan of minimalist makeup and great skincare. I have extremely sensitive skin, prone to eczema and rosacea, so I usually opt not to wear foundation and focus on healthy skin instead. The problem is layering on products plus moisturizer, plus sunscreen tends to make my face too shiny. Rhode seemed like a good lightweight morning routine alternative. The packaging itself is very minimalist, which I like. I do think the container for the glazing fluid is bulky, difficult to open, and annoying to pack. Product-wise, I like all the product, but I can't say that I'm sold on reordering it yet after 2 weeks of use. I like the ingredients, and the fact that it's created by dermatologists, but I don't see anything special about the glazing fluid or the moisturizer. It's all very lightweight, so you can layer it on, but I can achieve the same effect with hyaluronic serums and Glossier's moisturizer (which I prefer). I LOVE the peptide lip treatments though. I will repurchase these! They keep my lips moisturized for hours and aren't too sticky when applied. I'll use it as a base layer before applying color as well, and it feels great all day. Overall, good product, but no holy grails here. Props because all the packaging it shipped in is recyclable and reusable!
Peptide Lip Treatment
Peptide Glazing Fluid
Barrier Restore Cream
---